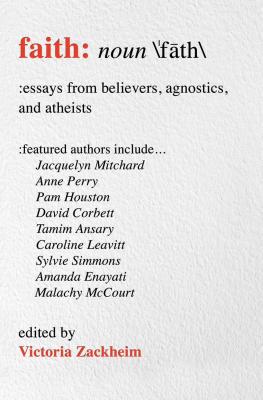 Faith
Essays from Believers, Agnostics, and Atheists
Paperback

* Individual store prices may vary.
Description
Delve into this thought-provoking collection of personal essays from award-winning and bestselling authors who explore the perennial question: What do I believe?

Whether believer, skeptic, agnostic, atheist, or something other, these twenty-four authors share a fascinating, daring, and multifaceted perspective on what faith means (or doesn't mean). The collection of personal essays includes bestselling authors such as Anne Perry, who writes about a deeply spiritual faith that embraces and sustains her through every step of her life. Caroline Leavitt writes about tarot cards, mediums, and quantum physics to explain her concept of faith. Afghan-American author Tamim Ansary beautifully captures his childhood curiosity amidst his Islamic views. There is the irrepressible Malachy McCourt's anti-religion rant, and then Pam Houston's signature wit and sense of irony, which gives the question of faith a surprising twist.

Honest, provocative, and candid, Faith begins a larger conversation and invites the question: What do you believe?
Praise For Faith: Essays from Believers, Agnostics, and Atheists…
"This is a great anthology—soul-searching and profoundly moving. Faith reaches into the heart of a person's being, be one a believer, an agnostic or an atheist. I laughed, I cried, but most of all I was inspired to consider: What do I believe?"
— Sandra Gulland, international bestselling author of the Josephine B. Trilogy and The Shadow Queen

"This collection of touching, honest, outrageous and outraged essays challenges all of us to explore our own personal truths. As we read, even those of us who are 'non-believers,' are drawn into conversation with our better selves. That is the gift of this book."
— Suzanne Braun Levine, author of Inventing the Rest of Our Lives

"Must we pray to express our faith?" asks author and editor Zackheim (The Bone Weaver) in the introduction to this collection of essays. "And must faith always be tied to God?" A diverse selection of writers offer an equally diverse set of views on those questions, with responses ranging from comedian David Misch's argument for reason and responsibility over spirituality, to Rabbi Frank Dabba Smith's case for interfaith collaboration as a humanitarian alternative to fascism and strife. Despite the wide variety of the writers' perspectives, some common ideas emerge. Many of the writings, especially those on the loss or rediscovery of faith, concern the difference between faith as it is taught by organized religions and as it is experienced in everyday life; believers and nonbelievers alike caution against the dehumanization that is a consequence of dogmatism. The strongest tests of faith recounted here come in the face of tragedy: incurable illness, brutality, and death leave no recourse but transformative grace, whether human or divine."
— Publishers Weekly

"Questions of faith can ignite a conversation or stop it cold, depending on the beliefs of those conversing. Editor Zackheim (author, editor, playwright; The Bone Weaver) opens a Pandora's box when she asks fellow writer friends to answer a question we all consider at some point in life: What do I believe? Twenty-three personal essays later, Zackheim presents a distinct collection that is honest, thought provoking, outrageous, and endearing. Best-selling author Anne Perry expresses her contemplative journey steeped in faith, while the equally prolific Jacquelyn Mitchard apologetically explains why she remains an atheist. Malachy McCourt has no regrets for his disbelief in his self-proclaimed "anti-religion rant," as Dianne Rinehart writes a mini-manifesto against robotic love. This multifaceted collection is not meant to sway nonbelievers nor to champion those of faith; it is a refreshing reminder that we are free to choose our own path. VERDICT Short, accessible essays for readers with an interest in cultural studies, theology, psychology, and personal writings."
— Library Journal
Atria Books/Beyond Words, 9781582705026, 288pp.
Publication Date: February 24, 2015
About the Author
Victoria Zackheim is the author of the novel The Bone Weaver and editor of five anthologies, the most recent being Exit Laughing: How Humor Takes the Sting Out of Death. Her screenplay, Maidstone, is in development, as is her play, Entangled. She writes documentary films and teaches creative nonfiction/personal essay in the UCLA Extension Writers' Program. Victoria is a 2010 San Francisco Library Laureate. She lives in San Francisco, California.
or
Not Currently Available for Direct Purchase