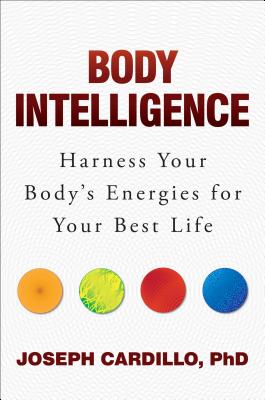 Body Intelligence
Harness Your Body's Energies for Your Best Life
Hardcover

* Individual store prices may vary.
Other Editions of This Title:
Paperback (9/5/2017)
MP3 CD (11/3/2015)
Compact Disc (11/3/2015)
Description
From the holistic psychology expert and author of the mind-body-spirit classic Be Like Water, comes a guide filled with revolutionary methods to help you find the physical and psychological energy you need to live a vibrant life.

Have you ever told yourself to power through, "fake it until you make it," put mind over matter—and found yourself hitting a wall, day after day after day?

We're all familiar with this "positive thinking" approach for managing our lives and getting through rough times. Ironically, these methods often fail us because we end up wearing ourselves down by the effort it takes to constantly maintain such an upbeat outlook. So what if instead of working to fix our mindset for better energy, we synced our body's energy to create a better mind?

In Body Intelligence, Joseph Cardillo, PhD, combines Western science, technology, psychology, and holistic medicine to show that we must first balance the body's energies before we can enhance the mind. Based on cutting-edge ideas, this perennial guide teaches us to tap into our energetic "sweet spot" and identify specific steps we must take to remove energy blocks. Packed with exercises, self-tests, and step-by-step instructions, Body Intelligence provides all the interactive tools for beginners and experienced energy-balancing practitioners alike to improve and understand the specific energy needed to live a happy, healthy, fulfilling life.

So open the door to a vivacious, vivid life and start living the matter-over-mind way—your best way!
Praise For Body Intelligence: Harness Your Body's Energies for Your Best Life…
"Body Intelligence could be subtitled: A User's Manual for Surviving and Thriving on Planet Earth. Cardillo not only explains how we can manage and regulate our own personal energy but how we can use it to deal with life's nuances. Drawing from science, quantum physics, ancient traditions and teachings as well as traditional Western and Eastern medicine, Cardillo makes a compelling case for a holistic approach to—well, everything, stating that you can work with and regulate your daily energies to increase the brilliance of all you do. Everyone who wants brilliance should read this book."
— Irene Conlan, MSN, PhD, creator of The Self Improvement blog and The Self Improvement radio show

"Joseph Cardillo's Body Intelligence is the right book for our time exploring the new frontiers integrating the technologies of Western science with the new mind-body medicine that teaches us how to synchronize mind, body and spirit in daily practice."
— Ernest Rossi, PhD, and Kathryn Rossi, PhD, authors of Creating New Consciousness in Everyday Life

"Loaded with fascinating science and technology, Body Intelligence is a compelling, life changing approach to acquiring and maintaining your best physical and mental energy. Cardillo's remarkable theory is a serious breakthrough in tapping the body-mind connection and is a must read for anyone wanting to live life at their full potential. You'll never think about human energy the same again."
— Carl O. Helvie, RN, PhD, host of the Holistic Health Show and bestselling author of You Can Beat Lung Cancer

"Cardillo (Be like Water) tackles the mind/body connection with a book intended to help readers achieve a "vivid, brilliantly experienced life" by identifying and using the body's energy sources. After discussing how energy affects one's overall life, he segues into teaching readers how to identify their energy needs, sharing valuable insights and exercises for boosting alertness, personal strength, and memory, and reversing stress, aggressive feelings, and obsessive thinking. Mindfulness is at the heart of every chapter, as Cardillo identifies the power of emotional memory and explains how implicit memory combines with the flight-or-flight response without conscious effort. "Implicit memory can be dangerous when combined with a negative mood and rapid changes in your blood chemistry," he warns. Cardillo gives readers reliable tools for addressing tough situations, including emptying one's mind to eliminate stress, combining the energy of music and art with positive memories to improve one's mood, and using what he terms power words to enhance memory and view stressful situations from a detached perspective. He also emphasizes that this isn't a one-size-fits-all proposition; what works for one person might not for another. Written with an empowering and empathetic tone, Cardillo's latest work is likely to join his earlier Be like Water on lists of mind/body classics."
— Publishers Weekly (Starred Review)
Atria Books/Beyond Words, 9781582705187, 272pp.
Publication Date: November 3, 2015
About the Author
Joseph Cardillo, PhD, is a top-selling author in the fields of health, mind-body-spirit, and psychology. An expert in Attention Training™, creative thinking, and body energy, Dr. Cardillo has taught his methods to more than 20,000 students at various colleges, universities, and institutes. He is a regular contributor to Psychology Today and is the author of Be Like Water, the body-energy classic. He holds a doctorate in holistic psychology and in mind-body medicine.
or
Not Currently Available for Direct Purchase