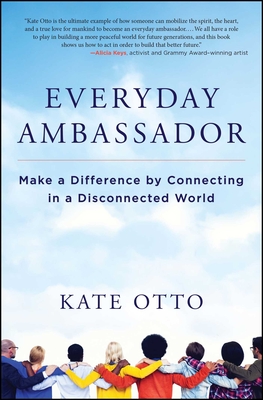 Everyday Ambassador (Paperback)
Make a Difference by Connecting in a Disconnected World
Atria Books/Beyond Words, 9781582705231, 224pp.
Publication Date: May 26, 2015
* Individual store prices may vary.
Description
In Everyday Ambassador Kate Otto brings people together even as our digital networks pull us further apart.

In a world of limitless technology, we are more connected than ever before but our hyper-connected lifestyles threaten our ability to know ourselves and interact with each other. By focusing on the four core values that allow us to become truly "connected" in tech-centric societies—empathy, patience, focus, and humility—Otto demonstrates that the power of technology is not in the tool, but in the intention of the person using it.

Everyday Ambassador offers a unique solution to those who aspire to truly make a difference in the twenty-first century—revealing the secrets of how to unite people, even when technology keeps us at a distance from others—emotionally and physically. Otto helps us lift our heads up from our cell phones and tablets and take a look at the people standing right in front of us.

In a time when good citizenship is the new currency of cool, Everyday Ambassador gives us the tactics to connect in our disconnected world.
Praise For Everyday Ambassador: Make a Difference by Connecting in a Disconnected World…
"Kate Otto is the ultimate example of how someone can mobilize the spirit, the heart, and a true love for mankind to become an everyday ambassador...We all have a role to play in building a more peaceful world for future generations, and this book shows us how to act in order to build that better future."

"Rich with provocative ideas, Everyday Ambassador is a book that will inspire you to create meaningful change on a person-to-person level. The four core values that are explored seem simplistic, but Otto lays out how important they are for anyone who wants to promote compassionate action and social change. With greater focus, empathy, patience, and humility, the world would be a better and more just place to live."

"We need a cadre of 'everyday ambassadors' to translate our best intentions into pragmatic actions that promote health and social equity. Kate Otto illuminates a way, in our digitized age, to develop deep human relationships to further these goals. Kate's lessons are valuable ones for any young person who, as so many now do, travel in hopes of serving communities far from home."

"Kate Otto's stories illustrate the care, patience, and deep listening that are vital to crafting lasting solutions to social problems around the world. This book shows how humility and perseverance are needed to turn good intentions into meaningful action. It will provide valuable insights for the growing community of globally minded changemakers."

"A powerful twenty-first-century story, Everyday Ambassador will inspire you to believe in your personal capacity to make a difference. Kate shows moral courage by pushing her generation to acknowledge its unique vulnerabilities. But she also guides her peers to solutions through her own example. No matter who—or where—you are, Kate's message is to look in the mirror first. This book reveals the secrets of how to bring people together, even when technology pulls us farther apart. Throughout her adventures, she pairs tenacity with humility, revealing a blazingly original voice with which she speaks her mind yet listens deeply to others. [Kate's book] will fill you with hope for our inter-connected future."

"Everyday Ambassador is a necessary read for anyone thinking about contributing to social change. Foundation for Sustainable Development has been working with professional and student volunteers for seventeen years, and we have seen both the great benefit and great damage foreigners abroad can do to communities. Kate addresses the issue of the outsider in development head on and with no holds barred. We need informed and honest advocates like Kate to ensure that those seeking to 'help' actually 'serve' and do no harm to our partner communities. Our deepest appreciation to Kate for doing a huge service for community-based development!"

"Everyday Ambassador articulates some of the most important trends of our time. Through Kate Otto's travels and stories we can't help but reflect on our own lives and the incredible importance of the everyday hero that is in each of us. Kate's focus on humility and international empathy is the type of thinking that will, at scale, solve the most pressing challenges of our time… and it all starts with the individual thinking collectively. If you ever doubted that one person can change the world, read this book."

"We live in a world where technology truly can bolster, strengthen, and reinvent people's relationships with our communities, and yet all too often we do not see this happening. Kate Otto proposes a smart game plan, through vibrant storytelling, for twenty-first-century citizenship, and how we can use technology in pursuit of, not deterioration of, strong communities."

"Kate Otto gives us an inspiring and clear example of how one must not just exist in the world, but rather be in and of the world. Everyday Ambassador exemplifies the value of strong relationships in our global era, taking seriously the attention and care required to form and maintain those relationships in the pursuit of a better world for everyone. Our world is increasingly interconnected and Kate demonstrates how to embrace that diversity through respectful and responsible global citizenship."

"The founder and director of Everyday Ambassador, an organization to combat digital isolation, provides wisdom for those interested in making real and positive impacts.... Otto provides encouragement by sharing compelling stories about what she and others have accomplished—both singly and as members of larger organizations. Wise, inspirational, and thoroughly readable."

"Kate Otto, like so many in her generation, is committed to being a good global citizen and doing her part to make the world a better place. Everyday Ambassador is a refreshing approach which encourages collaborative work with focus, empathy, humility, and patience to better affect positive change in communities throughout the world."