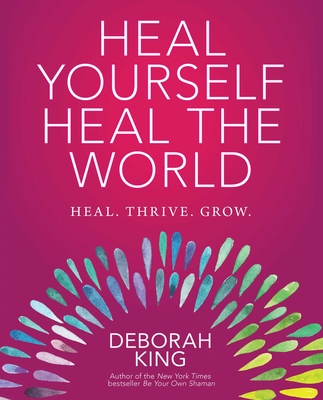 Heal Yourself--Heal the World
Paperback

* Individual store prices may vary.
Description
Deborah King, spiritual leader and New York Times bestselling author of Be Your Own Shaman, inspires and teaches her proven method of LifeForce Energy Healing in this definitive and accessible book that will forever change the way you connect to your energy.

What's standing between you and the life you were meant to lead? The answer lies in your energy field and how you manage it. When our energy pathways are blocked by suppressed feelings, pain, and trauma, we weaken both our personal and universal energy fields, hindering our ability to live our best lives.

LifeForce Energy has its origins in the living force that Hindus call prana, the Chinese call chi, and the Japanese call qi. This primal force is connected to your spirit as well as to your physical, emotional, and mental self. It is, in fact, the substance of spirit, what Master energy healer Deborah King calls "LifeForce energy."

Now, using the simple techniques and powerful teachings in Heal Yourself—Heal the World, you can finally clear past trauma from your energy field, connect with authentic emotions, and clear, charge, and re-balance your chakras. Within Heal Yourself—Heal the World you will be able to explore the origins and benefits of energy healing as well as learn self-healing practices and techniques, moving you from basic concepts to hands-on learning to, ultimately, whole world healing.
Praise For Heal Yourself--Heal the World…
If there was ever a time when Deborah King's book was needed, this is it. We find ourselves at a critical moment in world history, one in which we are asked to make an important choice: continue living in fear or trust the power of love within each one of us. Heal Yourself—Heal the World asks the right questions at the right time, and now it's up to us to offer the answers. I highly recommend this book.
— James Twyman, New York Times bestselling author and peace troubador

Deborah King's Heal Yourself—Heal the World offers us a twenty-first century prescription that is as applicable today as it was in the days of ancient Vedic texts which considered working with the Life Force as the most powerful method for personal and planetary healing. Enjoy this nourishing and healing book.
— Michael Bernard Beckwith author of Spiritual Liberation

The compelling message of Heal Yourself Heal the World is how much power we have within ourselves to make big change happen. Deborah King opens up a new world of opportunity for all those who seek healing from the past and want to help others experience that same phenomenon. This book will change lives!
— Mike Dooley author of Notes from the Universe
Atria Books/Beyond Words, 9781582705866, 256pp.
Publication Date: October 10, 2017
About the Author
Deborah King is the New York Times bestselling author of Be Your Own Shaman and is a leading authority on energy healing. Through her books and workshops she has shown millions how to use the power of awareness and spirituality to heal physical, emotional, and spiritual wounds.