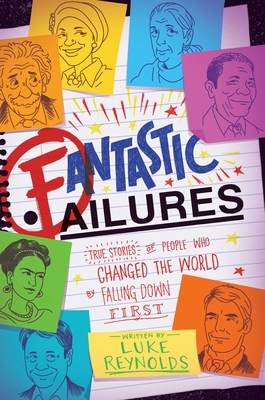 Fantastic Failures
True Stories of People Who Changed the World by Falling Down First
Paperback

* Individual store prices may vary.
Other Editions of This Title:
Hardcover (9/11/2018)
Description
Even the most well-known people have struggled to succeed! Find out what they learned and how they turned their failures into triumphs with this engaging and youthful guide on how to succeed long term.

There is a lot of pressure in today's society to succeed, but failing is a part of learning how to be a successful person. In his teaching career, Luke Reynolds saw the stress and anxiety his students suffered over grades, fitting in, and getting things right the first time. Fantastic Failures helps students learn that their mistakes and failures do not define their whole lives, but help them grow into their potential.

Kids will love learning about some of the well-known people who failed before succeeding and will come to understand that failure is a large component of success. With stories from people like J. K. Rowling, Albert Einstein, Rosa Parks, Sonia Sotomayor, Vincent Van Gogh, Julia Child, Steven Spielberg, and Betsy Johnson, each profile proves that the greatest mistakes and flops can turn into something amazing. Intermixed throughout the fun profiles, Reynolds spotlights great inventors and scientists who discovered and created some of the most important medicines, devices, and concepts of all time, including lifesaving vaccines and medicines that were stumbled upon by mistake.
Praise For Fantastic Failures: True Stories of People Who Changed the World by Falling Down First…
In this hybrid of collective biography and self-help, Reynolds hammers home the message that everyone fails, and failure can be used as a source of enlightenment, insight, and inspiration. Thirty-four people and one horse (Seabiscuit) are held up as examples of those who achieved success despite numerous adversities and setbacks. Many of the six- to eight-page profiles are of well-known figures, such as J.K. Rowling, Nelson Mandela, Albert Einstein, Steven Spielberg, and Frida Kahlo. Among the lesser known is Ilhan Omar, who came to America with her family from Somalia as a refugee and recently became the first Somali-American Muslim woman elected a national lawmaker. Luis Fernando Cruz, raised in Honduras with little access to computer science education, nevertheless channeled his passion into inventing accessible technologies for computer users with disabilities. Om Prakash Gurjar, once a child laborer, is a children's rights activist protecting children from slavery, trafficking, and forced marriage. Intermixed with the profiles are brief highlights of additional figures. Each profile includes inspirational words from Reynolds that are similar to what one might see on posters in a school guidance office: "Nobody gets to tell you who you are—that's your job, and yours alone," for example. Reynolds concludes with 100 questions about failure and success to prompt reflection and inspiration. An upbeat, reassuring showcase of notable, successful people who refused to let adversities and setbacks stand in their way. (bibliography) (Collective biography. 8-12)
— Kirkus

This collection highlights the times when high achievers either failed outright or faced drastic setbacks in achieving their goals. Each chapter opens with the idyllic and humorous story of a particular person's road to success. This book communicates well that failure is an important part of growth and achievement. The breadth of different people and fields of study covered is a positive. Readers will connect to the challenges of Duke Kahanamoku, a champion swimmer and actor who popularized the sport of surfing in the 1930s and 19402; Om Prakash Gurjar was forced into helping his parents pay back his debts at the age of five. He went on to advocate for children forced into labor and eventually won the International Children's Peace Prize. These stories serve as a model and send the message that success is rare at first attempt and failure is necessary to succeed. The text is well written and engaging. VERDICT: An entertaining pick for biopgraphy collections.
— Patricia Feriano, Montgomery County Public Schools, MD,

Failure is the new success. (Translation: Success is a long, mistake-ridden path through trial and error.) Failure is trending now and Luke Reynolds is ready to ride the wave. Writing with an eye toward including younger readers (he begins with J.K. Rowlings' story), he tells [readers] of all ages that failure is a learning experience and not a sign of defeat. Recounting thirty-five notable examples (including Nelson Mandela, Vincent Van Gogh, Christopher Reeves, Temple Grandin, Steven Spielberg, Rosa Parks, and Seabiscuit), he adds a multitude of shorter "Flop Files" (which include Steve Jobs, Ellen DeGeneres, Julia Child, Vera Wang, and Conan O'Brien) to let your [readers] know that not getting it right the first time is a valuable prerequisite for ultimately achieving their goals. Those first mistakes are often crucial to uncovering the ultimate path to success. Exercises for recognizing the gems-in-the-darkness and maximizing re-do efforts are woven throughout this inspiring tome.
— Anna Jedrziewski

Fantastic Failures by Luke Reynolds shares some interesting stories of failures that gives the reader evidence of the importance of a growth mindset. This quote sums it up nicely: "…in order to really learn who we are as people, we need to experience some failure. We need to understand what it's like to try something and get it wrong – to take a few risks." Accounts of Albert Einstein, JK Rowling, and even Oprah Winfrey demonstrate that failure is not fatal. Readers will love the "100 Questions about Failure and Success (and everything In-between) to Get Your Mind Sparking and Your Heart Pumping" at the end of the book. This would be a great family or class read to engage in conversations about growth mindset, persistence, and the value of failure. Definitely recommend this book!
— Lena Marie Rockwood, educator

I skimmed my way through some of this book. As I did I realized that this book could be an excellent starting point for research projects. I love that the author provides readable source notes, primary documents (images, quotes), and a questionnaire at the back. Great resource for any classroom.
— Samantha Leane, educator

This book, written by a seventh grade English teacher, is replete with the biographies of those who faced significant challenges in reaching their goals. Just a few of those featured are Nelson Mandela, Rosa Parks, J. K. Rowling, Oprah Winfrey, (the horse) Seabiscuit, Vincent Van Gogh, Christopher Reeve, Albert Einstein and Hillary Rodham Clinton. Each entry starts with a fantasy description of how things went before, more accurately, detailing the setbacks that were faced along the way. The author believes that it is important that young people focus, not on being perfect, but on risk taking and learning. He tells his own story of having been a poor student and then turning things around. The author offers comments to students suggesting coping mechanisms when they face challenges. This book is broad and expansive. It would be an excellent resource for students and school libraries.
— Joyce Laudon, media reviewer (website: https://joycesmysteryandfictionbookreviews.wordpress.com/)

Some of the stories I was familiar with, but it doesn't hurt to hear again. We need to know it is okay to fail but not give up. So many people are becoming perfectionists but forgetting the importance of learning from mistakes and failures. Great format to remind them.
— Vanessa Eyre, librarian

When were we taught that failure was a bad thing? Was it something we were taught or is it just an instinct we're born with? It does make sense though, if you're working on something, that the last thing you want to happen is for it to fail. But this book changes that! With 35 inspiring stories of successful people who made major mistakes on their way to the top, this book shows you that, not only is failing a necessary part of life, it's actually a good thing!


— Maddy, youth reviewer at McLean and Eakin Bookstore in Petoskey, Michigan
Aladdin/Beyond Words, 9781582706658, 304pp.
Publication Date: September 11, 2018
About the Author
Luke Reynolds taught in public schools for many years before becoming an assistant professor of education at Endicott College. He is the author of the Fantastic Failures books, Surviving Middle School, The Looney Experiment, Braver Than I Thought, and the picture books If My Love Were a Fire Truck and Bedtime Blastoff!. He and his wife, Jennifer, have four sons, and they live in Massachusetts, where they endeavor to be outside and exploring as much as possible.