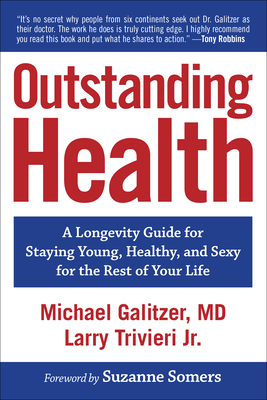 Outstanding Health
A Longevity Guide for Staying Young, Healthy, and Sexy for the Rest of Your Life
Paperback

* Individual store prices may vary.
Other Editions of This Title:
Paperback (3/17/2015)
Description
Doctor to celebrities like Suzanne Somers and Vanessa Williams, Michael Galitzer shares his revolutionary approach to health—a combination of conventional and energy medicine—so that anyone can look and feel years younger than their age.

For more than twenty-five years, Dr. Michael Galitzer has been sought out by movers and shakers in business, entertainment, and medicine for his revolutionary approach to health—a unique combination of conventional and complementary medicine with a focus on Energy Medicine, which addresses health at the cellular energetic level. Now in Outstanding Health, Dr. Galitzer shares his wisdom so that you, too, can achieve the same benefits of youthfulness and longevity as his patients.

In this groundbreaking book, discover how to renew and revitalize yourself in body, mind, and spirit, so you can enjoy outstanding health at any age. Your journey begins with a new understanding of how to use Energy Medicine to detect and correct health problems long before they ever develop into physical symptoms. And with Dr. Galitzer's 6 Essential Keys to Outstanding Health, you will discover breakthrough solutions for keeping your brain and heart healthy and youthful for the rest of your life. Look and feel much younger than you actually are and live a life of outstanding health.
Praise For Outstanding Health: A Longevity Guide for Staying Young, Healthy, and Sexy for the Rest of Your Life…
"It's no secret why people from six continents seek out Dr. Galitzer as their doctor. The work he does is truly cutting-edge and transformational, resulting not only in better health, but also greater energy, restored youthfulness, and a renewed passion for life. With Outstanding Health he is sharing his knowledge with the world so that you, too, can experience the same healthy transformations as his patients. I highly recommend you read this book and put what he shares to action."
— Tony Robbins

"You can reach a new level of amazing at any age. In Outstanding Health, Dr. Michael Galitzer shows you how to turn back the clock for increased energy, improved sex drive, renewed vigor and stamina, and an enviable body at any decade. In this book you'll learn simple, effective strategies to never settle for anything less than your leanest, healthiest, most fabulous self. Can't recommend this one enough!"
— JJ Virgin, CNS, CHFS, bestselling author of "The Virgin Diet," "The Virgin Diet Cookbook," and "The Sugar Impact Diet"

"Dr. Galitzer is the best kind of doctor, cutting edge and thoughtful. He has kept me well for over a decade. I lead an active and stressful life, traveling constantly for work, which wears down the body. Before and after every trip I go to his office and utilize protocols that protect and build up. As a result, I never get sick. We work together, rarely resort to drugs, and his approach allows me to enjoy superb health. He keeps my insides healthy, which manifests on the outside, making me look young and feel young. He is a true healer and a dear friend."
— Suzanne Somers
Beyond Words, 9781582706771, 488pp.
Publication Date: March 6, 2018
About the Author
Dr. Michael Galitzer is a nationally recognized expert in Energy Medicine, integrative medicine, and bio-identical hormone replacement therapy. For more than forty years he has been a leading figure and innovator in the field of longevity and anti-aging medicine.

Larry Trivieri Jr. is a bestselling author of such titles as Alternative Medicine: The Definitive Guide and The Acid-Alkaline Food Guide. He is a recognized lay expert in the fields of alternative and integrative medicine.
or
Not Currently Available for Direct Purchase