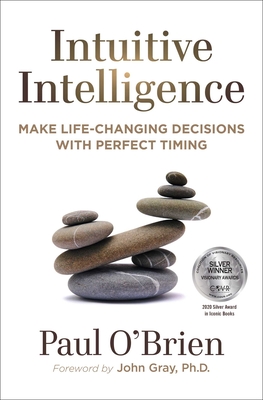 Intuitive Intelligence
Make Life-Changing Decisions With Perfect Timing
Paperback

* Individual store prices may vary.
Description
Paul O'Brien, founder of Tarot.Com, shares how readers can tap into their creative power, leverage synchronicities, and cultivate their sixth sense. Through a combination of effective decisions and strategic timing, readers can align with their greatest dreams.

What happens when a vision of creative freedom, courageous risk-taking and good timing come together? What if you focused on what fascinates you, then mastered some skills, including a level of intuitive decision-making that helps you make the right moves at the right time? The answer is a life filled with success on your own terms.

In this unique book about self-discovery and manifesting your true destiny, author Paul O'Brien distills a lifetime of business and personal adventures into an eloquently articulated process for making the best strategic decisions with an ever-improving sense of timing. His true stories of lessons learned will intrigue and delight the reader, while the presentation of skills required to make great decisions with perfect timing captivate and motivate.

The author's elegant Visionary Decision Making process and philosophy clearly define the essential skills of accessing intuition when you need it most. The book shows readers how to take charge of their life and fearlessly take the risks that will that help them realize their goals and dreams to fearlessly take those risks that will grow them as a person.

Intuitive Intelligence is the 2020 Silver winner of the Coalition of Visionary Resources (COVR) Visionary Awards.

In Intuitive Intelligence, you will learn how to:

- Discover what truly fascinates you and let that motivate you. Understand what turns on your creative imagination and innate desire to be of service.

- Fine-tune your intuitive sense, so that you can hear its quiet voice even in the midst of chaos.

- Leverage synchronicities meaningful coincidences to receive direction from the realm of Infinite Intelligence, outside the box of linear thinking.

- Channel archetypes of power to, call forth your inner Hero, the Sovereign, Warrior, Magician, and Lover, and put them to work for you!

- Develop intuition rituals. Learn how to use guided meditations and the I Ching (Book of Changes) as aids for cultivating and activating Intuitive Intelligence when you need it most.

- Adopt visionary beliefs. Take ownership and upgrade your operating assumptions.

- Execute decisions with exquisite timing, trusting in the process and yourself. Like compound interest, the more you trust intuition the easier it becomes to notice and interpret its subtle signals.

- Develop perfect timing and cultivate a Synchronistic Lifestyle characterized by inspiration, joy, wisdom, and grace.
Praise For Intuitive Intelligence: Make Life-Changing Decisions With Perfect Timing…
"If you have ever watched in envy those people who seem to operate from a clear sense of inner knowing (what Paul O'Brien calls intuitive intelligence) and consistently manifest their dreams, envy no more. In his exciting new book, O'Brien lets the reader in on the power of Visionary Decision Making and shows exactly how to harness that inner guidance that intuitively 'knows' the elegantly effective ways to proceed, whatever your endeavors, and is, moreover, aligned with the greater good."
— Catherine Ingram, author of In the Footsteps of Gandhi and Passionate Presence

"A toolkit to help you put the power of synchronicity, archetypes, and infinite intelligence to work for you—so that you can more fully enjoy happiness, success and, of course, love!"
— John Gray, author of Men are from Mars, Women are from Venus and Staying Focused in a Hyper World

"Paul has graced us with a wonderful blend of optimistic perspectives and practices so we can contact our own inner wisdom. This book shows, simply and meaningfully, how synchronicity offers us a path to becoming psychologically healthy and spiritually awake."
— David Richo, author of The Power of Grace
Beyond Words, 9781582706986, 320pp.
Publication Date: September 10, 2019
About the Author
Paul O'Brien is an entrepreneurial strategist, philosopher, and raconteur who invented divination software and created the world's largest astrology and divination ecommerce business, Tarot.com. He is a sought-after advisor, interview subject, and speaker, as well as author of The Visionary I Ching: A Book of Changes for the 21st Century and the Visionary I Ching app for smartphones. Executive director of the Divination Foundation (Divination.com), for 30 years Paul has hosted Pathways radio in Portland, Oregon, an interview program focused on personal and cultural transformation (podcasts at Divination.com and iTunes).
or
Not Currently Available for Direct Purchase