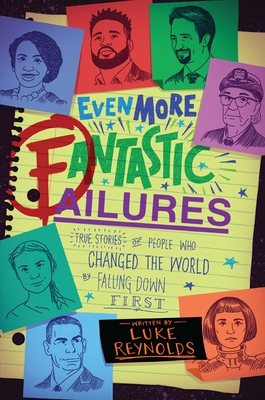 Even More Fantastic Failures
True Stories of People Who Changed the World by Falling Down First
Hardcover

* Individual store prices may vary.
Other Editions of This Title:
Paperback (10/27/2020)
Description
Even the most well-known people have struggled to succeed! This follow-up to Fantastic Failures offers up a second dose of fascinating stories featuring flops that turned into triumphs.

Kids today are under a lot of pressure to succeed, but failure has an important place in life as young people learn how to be a successful person. In his teaching career, Luke Reynolds saw the stress and anxiety his students suffered, whether it was over grades, fitting in, or simply getting things right the first time. Even More Fantastic Failures is a second installment in Luke Reynolds's personal campaign to show kids it's okay to fall down or make mistakes, just so long as you try, try again!

Kids will read about a host of inspiring, courageous, and diverse people who have accomplished—or still are accomplishing—big things to make this world a better place. A wide range of stories about Barack Obama, Greta Thunberg, Nick Foles, Emma Gonzalez, Beyoncé, Ryan Coogler, John Cena, Socrates, and even the Jamaican national women's soccer team, prove that the greatest mistakes and flops can turn into something amazing. In between these fun profiles, Reynolds features great scientists and other pivotal people whose game-changing discovery started as a failure. Readers will enjoy seeing stories they know highlighted in the new feature "Off the Page and On the Screen," which showcases how failures and successes are presented in books and film.

Each profile includes advice to readers on how to come back from their own flops and move forward to succeed.
Praise For Even More Fantastic Failures: True Stories of People Who Changed the World by Falling Down First…
In this follow-up to Fantastic Failures (2018), Reynolds shares stories of more people who found their way to success after failure.

The names are famous—Barack Obama, Beyoncé Knowles, Greta Thunberg—and not so famous—like social worker and philanthropist Alan Naiman, and inventor of Kevlar, Stephanie Kwolek. They are diverse in age, gender, nationality, ethnicity, and the areas of their passions, but they all have one thing in common: They achieved and excelled only after intense, often prolonged, rejection, pain, confusion, difficulty, and/or discouragement. Reynolds uses the engaging technique of hooking readers by opening each profile with a paragraph that describes an easy, predictable climb to the top, written in the familiar tone of many puff pieces. He then follows this fictional, idealistic story with the real one. This pattern helps readers see that stories of easy success are much less interesting and impressive than tales of hard-won glory. Toward the end of each story, Reynolds addresses readers with thoughtful advice based on the life in question, encouraging them to see difficulties and detours as steppingstones on their paths to their purposes. The chapters are adorned with black-and-white portraits of each individual, tiny sidebars highlighting additional personalities, and separate, pagelong sections called "The Flop Files" with still more examples. A list of questions at the end encourages readers to think deeply about intrinsic motivation, core values, and big dreams.

Directly and humorously written, this volume will cultivate a growth mindset. (Nonfiction. 8-14)
— Kirkus Reviews
Aladdin/Beyond Words, 9781582707334, 304pp.
Publication Date: October 27, 2020
About the Author
Luke Reynolds taught in public schools for many years before becoming an assistant professor of education at Endicott College. He is the author of the Fantastic Failures books, Surviving Middle School, The Looney Experiment, Braver Than I Thought, and the picture books If My Love Were a Fire Truck and Bedtime Blastoff!. He and his wife, Jennifer, have four sons, and they live in Massachusetts, where they endeavor to be outside and exploring as much as possible.
or
Not Currently Available for Direct Purchase