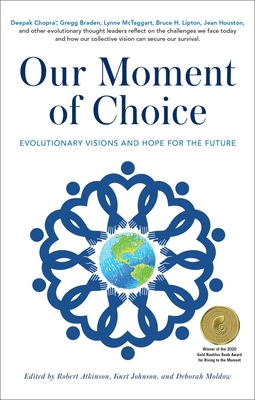 Our Moment of Choice
Evolutionary Visions and Hope for the Future
Hardcover

* Individual store prices may vary.
Other Editions of This Title:
Digital Audiobook (10/19/2020)
Paperback (5/3/2022)
Compact Disc (10/20/2020)
Description
WINNER OF THE 2020 GOLD NAUTILUS BOOK AWARD * 2021 SILVER COVR VISIONARY AWARD * 2021 NEW YORK BOOK FESTIVAL AWARD * 2021 GOLD LIVING NOW AWARD

This timely and compelling anthology is a rousing call-to-action for all of us to help transform the world into a just, peaceful, and thriving one—featuring creative and practical solutions to the many crises facing humanity today.

Humanity is currently facing a series of interconnected emergencies that threaten our very survival—from climate change to economic inequality and beyond. And yet, at the same time, a global shift towards harnessing our collective power to create a life-affirming future is flourishing.

Featuring chapters by forty-three leading-edge contributors, such as Gregg Braden, Lynne McTaggart, Bruce Lipton, Jean Houston, Michael Bernard Beckwith, Ervin Laszlo, Joan Borysenko, Larry Dossey, and many more, Our Moment of Choice provides eye-opening and inspirational visions for a unified, peaceful, and thriving world. The time has come for all humanity to be united in purpose. This is our collective moment of choice, upon which our future depends.
Praise For Our Moment of Choice: Evolutionary Visions and Hope for the Future…
"This innovative and revolutionary message of hope and wisdom from many of the greatest visionaries and evolutionary leaders of our times is creating a global movement that will lead us to growth and transformation as we usher in a new earth. I highly recommend this book."
— Anita Moorjani, New York Times bestselling author of "Dying to Be Me" and "What if This Is Heaven"

"Important medicine for a time of rapid change!"
— Stephen Dinan, CEO of The Shift Network

"Our Moment of Choice is a magnificent affirmation of choice, care, and compassion. It is a song of love."
— Gary Zukav, author of "The Seat of the Soul" and "The Dancing Wu Li Masters"

"This is a book writ large—a beautiful symphonic composition from different eminent authors, who discern the confluence of the great evolutionary flow of human consciousness that is ushering us into the higher realms of global transformation. A moving, astounding work that expresses the underlying unity that exists in the pluralistic and diverse external world, and lovingly, thoughtfully guides us into transcendence. The multi-perspectival approaches expressed consistently point to the truth of our wholeness that will lead us to a planetary wholesomeness built on the foundation of love, compassion, and selfless service to humanity. A revelatory map that charts the course to our collective awakening."
— Audrey Kitagawa, chair of the Parliament of the World's Religions

"In Our Moment of Choice, a remarkable community of wisdom teachers share their profound reflections, and call each of us to a journey of discovery. Each chapter invites us to awaken the potential within to make the choices that will nurture wholeness and connectedness in self, other, and world. Together these authors are midwives of a movement for an expanded human consciousness, ancient and new, offering hope and pathways to renewed life at a time of human and planetary reckoning."
— The Rev. Victor H. Kazanjian Jr., executive director, United Religions Initiative
Atria Books/Beyond Words, 9781582707624, 368pp.
Publication Date: September 1, 2020
About the Author
Robert Atkinson, PhD, is a 2017 Nautilus Book Award winner for The Story of Our Time: From Duality to Interconnectedness to Oneness. He is professor emeritus at the University of Southern Maine, director of Story Commons, and founder of the Piscataqua Peace Forum, as well as an internationally recognized authority on life-story interviewing, a pioneer in the techniques of personal myth-making and soul-making, and deeply committed to assisting the evolution of consciousness toward wholeness and unity.

Kurt Johnson has worked in professional science and comparative religion for more than forty years. A prominent figure on international committees, particularly at the United Nations, he is author of the influential book The Coming Interspiritual Age and two award-winning books in science. Kurt has served on the faculty of New York's Interfaith Seminary for fifteen years. In addition, he is host for the Convergence radio series on VoiceAmerica, and is a member of the Evolutionary Leaders, the Unity Earth Network, and many other organizations.

Rev. Deborah Moldow is an ordained interfaith minister committed to assisting in the transformation of human consciousness to a culture of peace through her ministry, international peace work, and interfaith efforts. She is director of the Evolutionary Leaders, and has served for more than twenty years as the Representative to the United Nations of May Peace Prevail on Earth International. Rev. Deborah leads a bimonthly Spirit Salon at her home in San Miguel de Allende, Mexico.
or
Not Currently Available for Direct Purchase