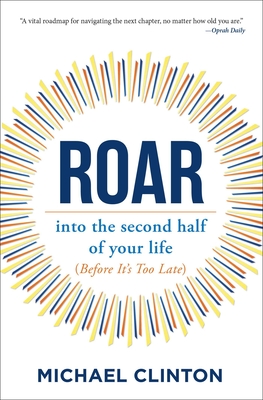 Roar
into the second half of your life (before it's too late)
Paperback

* Individual store prices may vary.
Other Editions of This Title:
Digital Audiobook (9/6/2021)
Hardcover (9/7/2021)
Compact Disc (9/7/2021)
Description
This "inspiring reminder that it is never too late to reinvent yourself" (Nina García, editor-in-chief, Elle) shows you how to make second half of your life happy and productive—whether or not retirement is in your future plans.

We are living in a time when everyone is constantly reassessing what is next for them. In the mid-career group, people who have spent years working are now seeing their industry dramatically evolve and are facing the question: "What does that mean for me in the next twenty years?" At the same time, the post-career population is also going through massive change and dealing with the fact that many of them are not prepared financially, logistically, or emotionally for the next phase of their lives. And while we may want to retire, most of us don't want to do nothing.

With expert insight and approachable techniques, Roar helps you identify fresh goals and take meaningful action to achieve a purposeful life. Featuring a unique and dynamic 4-part process, Roar shows you how to:

-Reimagine yourself
-Own who you are
-Act on what's next
-Reassess your relationships

Transformative and invigorating, "you couldn't pick a better roadmap for your next chapter than Roar. It teach[es] you how to approach the future not with fear or worry, but with passion and purpose" (Michael Sebastian, editor-in-chief, Esquire).
Praise For Roar: into the second half of your life (before it's too late)…
"ROAR offers a vital roadmap for navigating the next chapter, no matter how old you are. Clinton is supremely qualified to offer advice on the subject."
— Oprah Daily

"ROAR is an actionable roadmap for anyone at a professional or personal crossroads, with tips on how to 'run full gallop into your future.'"
— Esquire

"ROAR teaches people how to thrive and live a more satisfying life. Don't we all want that? Yes, we do!"
— CBS Mornings

"Many of us achieve big goals in the first half of our lives and then we hit a certain age and struggle with the question: What's next for me? Well, guess what? Your best days are ahead of you, and this book will help you find clarity on your vision, purpose, and passion. ROAR provides the trail map to get you on track to live the rest of your life without limits."
— Alison Levine, team captain of the first American women's Everest expedition and New York Times bestselling author of On The Edge

"Joining the ranks of Brené Brown and Elizabeth Gilbert, Michael Clinton forces you to evaluate your life honestly and embrace radical solutions for what's not working. Brimming with real-life examples, he gives a blueprint for how to embrace your second act that will ensure you ROAR as loud as you can."
— Joanna Coles, executive producer of The Bold Type and director of Snap Inc.

"ROAR is a delight. The wisdom it offers working adults of all ages is compassionate, results-driven, and eminently actionable. Whether you're making a midlife career change or seeking purpose after retirement, you couldn't pick a better roadmap for your next chapter than ROAR. It will teach you how to approach the future not with fear or worry, but with passion and purpose."
— Michael Sebastian, editor-in-chief of Esquire

"As a 40-year-plus veteran of the 'mad men' world of advertising, I found ROAR to be compelling and inspirational on my own journey to reimagine and recreate my next chapter(s)."
— Bob Jeffrey, former chairman and CEO of J Walter Thompson

"Are you yearning for the best second half of your life ever? Well, here's the secret sauce you've been waiting for. Michael Clinton's ROAR is chockfull of absolutely terrific real-life inspiration, wisdom, and strategies to finally make it happen—starting NOW."
— Kate White, former editor-in-chief of Cosmopolitan and New York Times bestselling suspense author

"Wondering what to do in the second half of your life? Wonder no more. Michael Clinton's latest book ROAR is an indispensable guide to what can be and should be your next chapter. ROAR is not for dreamers. It is for doers who are not content to watch the world pass them by. So don't just sit there... ROAR!"
— Pamela Fiori, author and former editor-in-chief of Town & Country magazine

"I am not exaggerating when I say this book will change your life. Drawing on Michael's own story as well as an array of motivational midlife transformations, ROAR is the closest thing to having Michael as a life coach—and an inspiring reminder that it is never too late to reinvent yourself."
— Nina Garcia, editor-in-chief of Elle magazine

"Adventurer, marathoner, photographer, publisher, pilot, and author—Michael Clinton has spent his exuberant life pushing boundaries and reinventing himself. Based on his own experience as well as extensive interviews with friends and colleagues entering the next phase of life, ROAR is an inspirational and instructive look at how proactively plotting your future can make your second act as good, if not better, than your first."
— Anne Lewnes, chief marketing officer, executive vice-president at Adobe

"A page turner for anyone who has ever asked the question, 'Am I living my best, happiest life?'"
— Alina Cho, journalist

"This is a must-have guide for anyone who wants to be inspired about all the possibilities inherent in living one's best life."
— Mary G. Berner, president and CEO at Cumulus Media

"While reading Michael Clinton's sage advice along with the fascinating stories of people who ROARed into the second half of their life, you can't help but hear your own call to action. Each inspirational page engages your mind and soon you're chanting yes, yes, yes! A wonderfully written tutorial on how to squeeze the most juice out of every day from someone who has walked the walk. A must-read for anyone at any age."
— McGarvey Black, bestselling author of Without Her Consent and The First Husband

"With ROAR, Michael Clinton provides a thoroughly engaging, galvanizing guide to getting past roadblocks and making the most of your next chapter. The book is packed with inspiring examples of people who reimagined their lives, although none more inspiring than Clinton himself, who rose from humble origins to become a revered executive, philanthropist, photographer, and so much more. A page-turner written with warmth and wit, ROAR will help you find your purpose while leaving little doubt that the best is yet to come."
— Lucy Kaylin, vice president of print content at Hearst Magazines

"This book is a gift for anyone navigating the challenges of personal reinvention. Its compelling format recounts the varied paths of so many successful people who have pivoted to new careers and passions. In that way it is also a guidebook that offers instructive planning tools. Most important, it reminds us that our greatest asset is knowing ourselves through careful self-evaluation. That is the catalyst for the journey of reinvention and enables us to do so with confidence and passion! Bonus—this subject matter is not the provenance for only those aged 50+. ROAR's inspirational insights are valuable to people of every age who are brave enough to reimagine themselves and their lives in new ways."
— Kevin C. O'Malley, former media executive and now entertainment industry entrepreneur

"Michael Clinton's Roar is a candid owner's manual for the second part of life. With a robust framework for change, practical advice, and vibrant examples of men and women who have pivoted successfully, Clinton helps his readers exit the inertia of midlife and effect real change for enriched living."
— Keith LaScalea, MD
Atria Books/Beyond Words, 9781582708140, 224pp.
Publication Date: September 13, 2022
About the Author
Michael Clinton is the former president and publishing director of Hearst Magazines and is currently special media advisor to the Hearst Corporation's CEO. He is also an author and photographer who believes that everyone should strive to live their fullest life possible—especially in the second half of life. A regular columnist for Men's Health, his work has also been featured in Forbes, Oprah Daily, Esquire, ELLE, and on CBS Mornings among others. Michael has traveled through 124 countries, has run marathons on seven continents, is a private pilot, is a part owner of a vineyard in Argentina, has started a nonprofit foundation, holds two master's degrees, and still has a long list of life experiences that he plans to tackle. He resides in New York and Santa Fe, New Mexico.