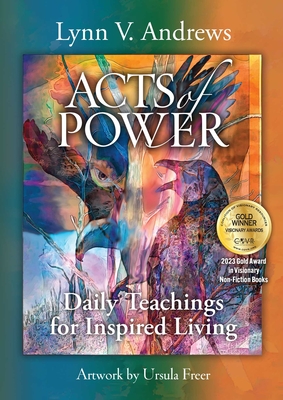 Acts of Power
Daily Teachings for Inspired Living
Hardcover

* Individual store prices may vary.
Description
Acts of Power, compiled from Lynn Andrews's extensive publication history, is a brilliant daily companion offering 365 days of wisdom and inspiration. These short daily teachings will assist you in being present with your desires, nurture your spiritual growth, and encourage you to remain grounded every day of the year.

Lynn Andrews's new book Acts of Power is an intensely personal document that has assumed a special individual significance for contemporary readers, providing them with 365 daily inspirations that offer pivotal insights for living a joyful life. Andrews has distilled twenty-one books into this daily companion edition to support and inspire you in a small, easy-to-follow, yet very important and powerful tool for living well. Transcending the borders of age and background, Acts of Power's spectrum of experience, thought, and wisdom invites direct identification and a sense of recognition, a sharing of concerns and solutions.

Cover art was illustrated by Ursula Freer.
Praise For Acts of Power: Daily Teachings for Inspired Living…
"I've been a fan of Lynn Andrews since reading her landmark debut book, Medicine Woman. What I find especially useful in her new Acts of Power is how she distills the essence of a lot of prose into short, easily accessible golden nuggets of wisdom and truth. I can open to any page, regardless of the date, and find words that resonate powerfully with the energy of the day. I think you will too."
— Steven Halpern, Grammy-nominated recording artist, author, and visionary sound healer

"Every book Lynn Andrews writes is a true celebration of life's wisdom and power. Her newest book, Acts of Power: Daily Teachings for Inspired Living, is such a treasure. Lynn's 365 daily insights and inspired messages are so needed in today's unbalanced world. Each is a sacred reminder to walk our sacred path on this Earth with truth and full potential."
— Itzhak Beery, shamanic healer, teacher, speaker, and author of The Gift of Shamanism, Shamanic Transformations, and Shamanic Healing

"Lynn Andrews has created daily positive affirmations that start each day by inspiring into the deep truth of our being and sets us on our day ahead with inner strength and personal power."
— Jonathan Goldman, founder of Healing Sound

"Lynn Andrews, a goddess who has taught us to unlock our hidden powers, has created a wonderful, brilliant book of daily inspirations to guide you in everyday life. This book itself is a seed that will blossom in your hands as you work with it. Fortunately she has created nuggets of profound wisdom you can absorb and digest quickly, yet simultaneously it will slowly permeate the inner reaches of your soul! A book to have, hold, and to sustain you as you create miracles!"
— Maureen St. Germain, bestselling author of Waking Up In 5D and Opening the Akashic Records
Beyond Words, 9781582708614, 416pp.
Publication Date: January 18, 2022
About the Author
Lynn Andrews is the New York Times and internationally bestselling author of the Medicine Woman series, which chronicles her three decades of study and work with shaman healers on four continents. Her study of the way of the sacred feminine began with Agnes Whistling Elk and Ruby Plenty Chiefs, Native American healers in northern Canada. Her quest for spiritual discovery continued with a Shaman Curendera of the Mayan Yucatan, an Aboriginal woman of high degree in the Australian Outback, and a Nepalese healer in the foothills of the Himalayas. Today, she is recognized worldwide as a leader in the fields of spiritual healing and personal empowerment. A shaman healer and mystic, Andrews is widely acknowledged as a major link between the ancient world of shamanism and modern society's thirst for profound personal healing and a deeper understanding of the pathway to enlightenment.