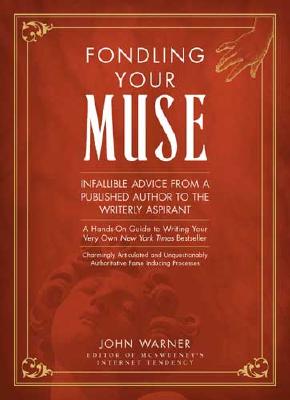 Fondling Your Muse: Infallible Advice from a Published Author to a Writerly Aspirant/A Hands-On Guide to Writing Your Very Own N (Hardcover)
Infallible Advice from a Published Author to a Writerly Aspirant/A Hands-On Guide to Writing Your Very Own N
Writer's Digest Books, 9781582973487, 198pp.
Publication Date: September 1, 2005
* Individual store prices may vary.
or
Not Currently Available for Direct Purchase
Description
A note from the author: "Writing is a solitary and often scary enterprise. I alone have heard your silent screams, so I have written this book to help you achieve what everyone who has the courage to live the creative life deserves: complete, utter, slavish adoration and worship. Also: incalculable wealth that insulates you from the concerns of ordinary people."
And there you have it. Fondling Your Muse is John Warner's innovative and slightly insane book of instruction for those who want to write, and those who think they already can. It's packed with quirky (possibly deranged) advice guaranteed to make you laugh out loud in the most embarrassing fashion possible. You know what we mean. It also includes a special chapter entitled "Everything Stephen King Knows About Writing Successfully: Plus Some Things I Know That He Doesn't Because He Isn't That Special." No other book currently available has this chapter
And Fondling Your Muse provides the kind of wise, insightful guidance that's missing from all of those self-serious, mind-numbingly awful books that promise riches and fame by writing only 20 minutes a day.
Let's say you're looking for a tried-and-true recipe for literary success. Warner reveals all of the best ones, including these succulent concoctions:
Contemporary Romance Quiche al la Nicholas Sparks ("Tasty with a side of hackneyed potatoes.")
Tom Clancy Techno-Thriller Surprise ("Preparation is usually subcontracted to others.")
Chick-Lit Cacciatore ("Satisfies many, every single time. I can't explain how either.")
Harlequin Romance Salad ("Thoroughly rip bodices, pound prose until purple, and combine all ingredients in a large mixing bowl.")
John Grisham's Legal Thriller Stew ("Boil in pot until ingredients bubble over line of believability.")
Contemporary American Literary Fiction Flambe ("Served in smaller and smaller quantities as the years go by.")
It doesn't get any better than that. So go ahead - get Fondling today
Advertisement