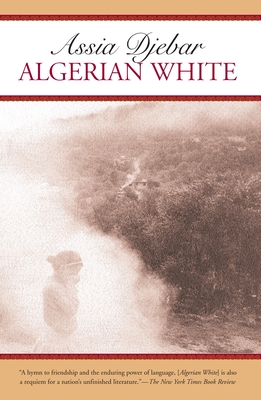 Algerian White: A Narrative (Paperback)
A Narrative
Seven Stories Press, 9781583225165, 240pp.
Publication Date: February 4, 2003
Description
In Algerian White, Assia Djebar weaves a tapestry of the epic and bloody ongoing struggle in her country between Islamic fundamentalism and the post-colonial civil society. Many Algerian writers and intellectuals have died tragically and violently since the 1956 struggle for independence. They include three beloved friends of Djebar: Mahfoud Boucebi, a psychiatrist; M'Hamed Boukhobza, a sociologist; and Abdelkader Alloula, a dramatist; as well as Albert Camus. In Algerian White, Djebar finds a way to meld the personal and the political by describing in intimate detail the final days and hours of these and other Algerian men and women, many of whom were murdered merely because they were teachers, or writers, or students. Yet, for Djebar, they cannot be silenced. They continue to tell stories, smile, and endure through her defiant pen. Both fiction and memoir, Algerian White describes with unerring accuracy the lives and deaths of those whose contributions were cut short, and then probes even deeper into the meaning of friendship through imagined conversations and ghostly visitations.
About the Author
With her Berber and Muslim roots, her accomplishments as an Arab woman at the highest echelons of Western society in France and America, and her relentless output as a novelist and filmmaker, ASSIA DJEBAR speaks for the women, the poor, victims of both terrorism and the "War on Terror" that began in Algeria forty years before it arrived on US soil, and provides a much needed alternative voice to the litanies of the "experts." Djebar won the Neustadt Prize in 1996, Germany's Peace Prize in 2000, and in 2005 became the first Arab woman elected to the Academie Francaise. She is Silver Professor of Francophone Literature and Civilization at NYU. Djebar lives in Paris and New York.
Advertisement