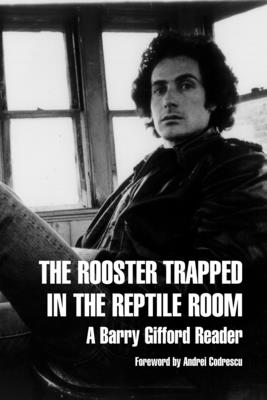 The Rooster Trapped in the Reptile Room: A Barry Gifford Reader (Paperback)
A Barry Gifford Reader
Seven Stories Press, 9781583225257, 439pp.
Publication Date: May 6, 2003
* Individual store prices may vary.
or
Not Currently Available for Direct Purchase
Description
"Everything I have to say about race and religion and politics is in the novels," declares Barry Gifford. The Rooster Trapped in the Reptile Room gathers generous portions of all thirteen novels and novellas, as well as first-person essays, generous helpings of poetry, journalism, and a new interview with the author. The broad contours of an episodic output emerge--a full-length view of the freaks and freakish incidents that populate Gifford's unique human comedy. A world, as Lula, the author's favorite of all his characters, reflects, "wild at heart and weird on top."
The Rooster Trapped in the Reptile Room provides essential reading for anyone after the soul of American writing.
About the Author
The author of more than forty works of fiction, nonfiction, and poetry, which have been translated into over twenty-five languages, BARRY GIFFORD writes distinctly American stories for readers around the globe. From screenplays and librettos to his acclaimed Sailor and Lula novels, Gifford's writing is as distinctive as it is difficult to classify. Born in the Seneca Hotel on Chicago's Near North Side, he relocated in his adolescence to New Orleans. The move proved significant: throughout his career, Gifford's fiction--part-noir, part-picaresque, always entertaining--is born of the clash between what he has referred to as his "Northern Side" and "Southern Side." Gifford has been recipient of awards from PEN, the National Endowment for the Arts, the American Library Association, the Writers Guild of America and the Christopher Isherwood Foundation. His novel "Wild at Heart" was adapted into the 1990 Palme d'Or-winning film of the same name. Gifford lives in the San Francisco Bay Area.
Advertisement