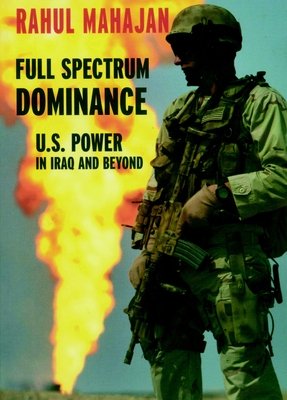 Full Spectrum Dominance: U.S. Power in Iraq and Beyond (Paperback)
U.S. Power in Iraq and Beyond
Seven Stories Press, 9781583225783, 207pp.
Publication Date: November 5, 2002
* Individual store prices may vary.
or
Not Currently Available for Direct Purchase
Description
In this compelling big-picture assessment of the U.S. war on Iraq, Mahajan combines his experience as an anti–Iraq sanctions activist with a keen analysis of U.S. foreign policy in the post–Cold War era to provide the analysis that has been overlooked in the mainstream debate. Situating Iraq within the larger context of post-9/11 foreign policy, he analyzes the Bush National Security Strategy and the new neoconservative vision of achieving increasing degrees of global domination and control. Presented with unflinching clarity, Mahajan's research demonstrates that the war on Iraq was part of a much larger plan, assembled before 9/11 and, as stated by the Project for a New American Century, needing only a "new Pearl Harbor" to implement it.
About the Author
RAHUL MAHAJAN (Ph.D. University of Texas at Austin) is a longtime antiwar activist at the local and national level. He is a founding member of the Nowar Collective and serves on the National Board of Peace Action, the nation's largest grassroots peace organization. His first book, The New Crusade: America's War on Terrorism, has been described as "mandatory reading for all those who want to get a handle on the war on terrorism." He writes frequently for mainstream and alternative print media and for websites like Common Dreams, Zmag, Alternet, and Counterpunch.
Advertisement