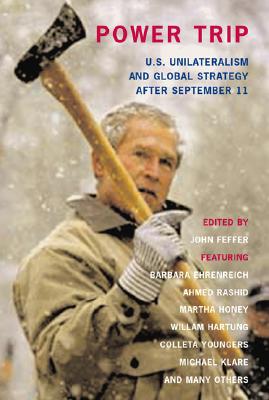 Power Trip: U.S. Unilateralism and Global Strategy After September 11 (Paperback)
U.S. Unilateralism and Global Strategy After September 11
Seven Stories Press, 9781583225790, 254pp.
Publication Date: June 3, 2003
* Individual store prices may vary.
or
Not Currently Available for Direct Purchase
Description
A concise dissection of the new U.S. unilateralism, Power Trip is the first book-length critique of this fundamental shift in U.S. foreign policy to consolidate and extend U.S. global control. Charting the new terrain of foreign policy after September 11 and demonstrating how the Bush administration is building on the policies of its successors, here are Barbara Ehrenreich, William Hartung, Ahmed Rashid, Michael Ratner, Noy Thrupkaew, Coletta Youngers, Mark Weisbrot, and their contemporaries on the Bush administration and its flawed ambition to control the world.
About the Author
JOHN FEFFER'S books include Beyond Detente: Soviet Foreign Policy and U.S. Options, Shock Waves: Eastern Europe After the Revolutions, Living in Hope: Communities Respond to Globalization, and Power Trip: U.S. Unilateralism and Global Strategy after September 11. From 1998 to 2001, Feffer lived in Tokyo and traveled throughout East Asia, making more than twenty trips to South Korea and three trips to North Korea. He lives in the Washington, D.C., area.
Advertisement