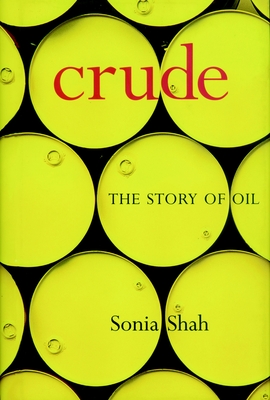 Crude
The Story of Oil
Hardcover

* Individual store prices may vary.
Other Editions of This Title:
Paperback (5/2/2006)
Paperback, Spanish (9/1/2008)
Description
Crude is the unexpurgated story of oil, from the circumstances of its birth millions of years ago to the spectacle of its rise as the indispensable ingredient of modern life. In addition to fueling our SUVs and illuminating our cities, crude oil and its byproducts fertilize our produce, pave our roads, and make plastic possible. "Newborn babies," observes author Sonia Shah, "slide from their mothers into petro-plastic-gloved hands, are swaddled in petro-polyester blankets, and are hurried off to be warmed by oil-burning heaters." The modern world is drenched in oil; Crude tells how it came to be. A great human drama emerges, of discovery and innovation, risk, the promise of riches, and the power of greed.
Shah infuses recent twists in the story with equal drama, through chronicles of colorful modern-day characters — from the hundreds of Nigerian women who stormed a Chevron plant to a monomaniacal scientist for whom life is the pursuit of this earthblood and its elusive secret. Shah moves masterfully between scientific, economic, political, and social analysis, capturing the many sides of the indispensable mineral that we someday may have to find a way to live without.
Praise For Crude: The Story of Oil…
"This is not a Michael Moore–style anti-corporate rant—Shah writes beautifully, with dispassionate, elegant clarity—and it is all the more powerful for it." –The Guardian

"Sonia Shah deftly [shows] how the oil companies' relentless pursuit of new fields to exploit has led them to drill for oil in some of the most impoverished and unstable areas of the world … particularly eloquent on the despoliation of the Delta region of southern Nigeria." –Michael Klare, The Nation

"Though Shah could have easily written a laundry list on the disruptions Big Oil and its government cohorts continue to wreak, this volume is more than that—it is an insightful missive to her readers to understand their consumptive reality." –Clamor Magazine
Seven Stories Press, 9781583226254, 246pp.
Publication Date: September 7, 2004
About the Author
SONIA SHAH edited both the critically acclaimed Dragon Ladies: Asian American Feminists Breathe Fire and Between Fear and Hope: A Decade of Peace Activism. A former editor at South End Press and Nuclear Times Magazine, Shah is an independent journalist whose writing appears in The Nation, The Progressive, Salon, and elsewhere.