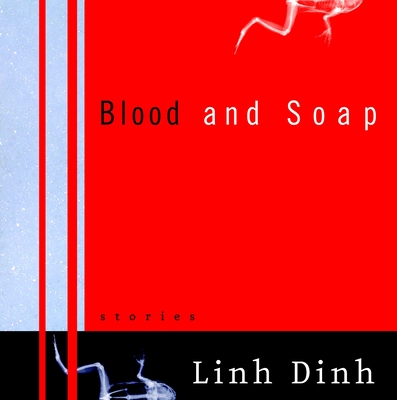 Blood and Soap
Stories
Paperback

* Individual store prices may vary.
Description
Blood and Soap is a breakthrough collection of modern-day fables from a wildly inventive American writer whose fiction has been called "terse and edgy" (Booklist) and "vividly imagined" (Kirkus Reviews). Dinh's gift is for constructing, in the manner of Italo Calvino, simple narratives that quickly frame larger questions; with a poet's timing, the author builds his stories to the one or few climactic sentences that brand them with unforgettable meaning. In one tale, a Vietnamese boy's self-guided, haphazard study of English gives way to a meditation on the universality of language: "Everything seems chaotic at first, but nothing is chaotic. One can read anything: ants crawling on the ground; pimples on a face; trees in a forest." In another story, a man opens a newspaper and sees the photograph of a man he may have murdered, which he impulsively clips, only to feel that in doing so he unwittingly has sealed his crime: "As soon as I finished, I realized what I had done: by cutting my father's likeness out of the newspaper, I had removed him from the world." The collection crescendoes in displays of raw creative power, as in "Eight Plots," a rapid-fire of three- and four-sentence summaries, and the brilliant, impressionistic "!"
Blood and Soap is an arresting collection from one of a small number of writers on the vanguard of American fiction.
Praise For Blood and Soap: Stories…
"A sort of Vietnamese Edgar Allan Poe for the 21st century . . . lyric qualities infuse Dinh's short fiction. So does a mordant sense of humor, and an immigrant's unceasing sense of not quite fitting in: not here, not there, not anywhere. . . . Death crosshatches these pages, too, but like a punch line more often than not. In my favorite story, 'What's Showing?', Dinh parodies film reviews. His versions have the Tarantino trick of making you grin when you should wince." –Susan Balée, Philadelphia Inquirer


"The total effect of Blood and Soap is impossible to describe … It owes a certain debt to Jorge Luis Borges, but uses Borgesian metafiction and genre-bending to depict a sense of absurdity, confusion, and displacement peculiar to being a contemporary world citizen." –Matthew Sharpe, Brooklyn Rail
Seven Stories Press, 9781583226421, 144pp.
Publication Date: May 4, 2004
About the Author
A recipient of a Pew Foundation grant, a David T. Wong Fellowship, a Lannan Residency and, most recently, the Asian American Literary Award, LINH DINH was born in Saigon in 1963 and emigrated to the United States in 1975. An acclaimed and provocative writer of short stories and contemporary fables, he is also the author of several books of poems and a novel, Love Like Hate. Linh has edited the anthologies Night, Again: Contemporary Fiction from Vietnam and Three Vietnamese Poets. His collection of stories, Blood and Soap was chosen by the Village Voice as one of the Best Books of 2004. Linh's nonfiction essays have been published regularly at Unz Review, LewRockwell, Intrepid Report and CounterCurrents, and his blog, Postcards from the End of America (linhdinhphotos.blogspot.com), is followed by thousands of readers. He has also published widely in Vietnamese.
or
Not Currently Available for Direct Purchase