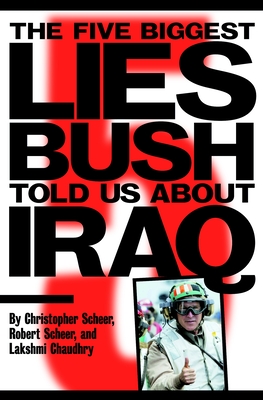 The Five Biggest Lies Bush Told Us about Iraq (Paperback)
Seven Stories Press, 9781583226445, 176pp.
Publication Date: November 4, 2003
* Individual store prices may vary.
or
Not Currently Available for Direct Purchase
Description
The Five Biggest Lies Bush Told Us About Iraq is the comprehensive source on the administration's campaign of disinformation before, during, and after the second Gulf War. From the careful linking of Saddam Hussein with Al Qaeda, to the WMD canard, to the September 2003 damage-control sideshow, AlterNet.org's Christopher Scheer and Lakshmi Chaudhry team up with renowned journalist Robert Scheer to take the full measure of official deception.
They not only lied, the authors conclude; the pattern of obfuscation, misstatement, and half-retraction amounted to a devious entrapment of the American people. The Five Biggest Lies Bush Told Us About Iraq offers the first analysis of this pattern, underscoring that the lying was highly managed. The public did not commit troops, and dollars, to the invasion acting on the best information its government could provide. Instead, we fell victim to a marketing campaign conducted by a small group of influential radicals inside the Bush administration, who were pursuing their own narrow, hubristic agenda.
With U.S. soldiers still losing their lives, Bush's ongoing doublespeak is outrageous. In the authors' words, "The Bush administration continues to stand firm on the bodies of its own soldiers, who are paying a high price for its lack of reason. . . . The soldiers themselves are simply exhausted, homesick, and disillusioned with both their generals who sold them the shining lie of a quick war of liberation and the nation that seems unwilling to be rescued."
About the Author
CHRISTOPHER SCHEER is managing editor of AlterNet.org, the popular news and commentary website. Scheer has written screenplays for Oliver Stone and previously worked for the San Francisco Examiner.

ROBERT SCHEER is the author of six books, the host of NPR affiliate KCRW's "Left, Right, and Center," and a contributing editor to both the Los Angeles Times and The Nation.

LAKSHMI CHAUDHRY is a senior editor at AlterNet.org.
Advertisement