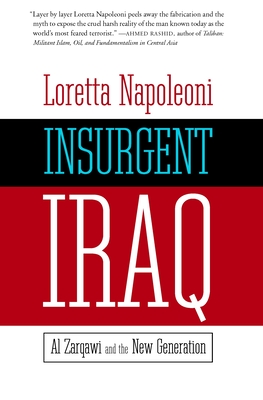 Insurgent Iraq (Paperback)
Al Zarqawi and the New Generation
Seven Stories Press, 9781583227053, 288pp.
Publication Date: November 1, 2005
* Individual store prices may vary.
Description
An unparalleled look into the Iraqi insurgency and the multitude of forces that continue to shape it, Insurgent Iraq: Al-Zarqawi and the New Generation presents a chilling account of the regrouping of terror networks, and the development of an Iraqi resistance since the invasion by coalition forces over two years ago. One of the world's leading specialists on terrorism, economist Loretta Napoleoni is uniquely qualified to make sense of the ways in which terror networks do and do not operate in Iraq, and what role they play in the Iraqi resistance.
Is the insurgency in Iraq a counter-Crusade, a national liberation movement, or a civil war? With a complex understanding of all the intricacies inherent in such a question, Napoleoni provides a mindful discussion, offering a much-needed understanding of how the US occupation of Iraq has catalyzed the cultural, religious, and political divides within the country to create a wholly changed, more volatile landscape. Composed of independent Iraqi Jihadist groups, Islamo-Nationalist and Ba'ath party resistance, ethnic infighting between Sunni, Shi'ite and Kurd, and foreign suicide bombers, the resistance is a divided yet maintains one demand: the end of US occupation.
Overall, Napoleoni offers a breakdown of the current political landscape in Iraq, and a renovated al-Qaeda. Insurgent Iraq is a necessary read for anyone concerned with the future of Iraq, or seeking greater insight into the U.S.'s critical role in the Middle East.
About the Author
A woman of the Left who garners praise from Noam Chomsky and Greg Palast at the same time as she is quoted respectfully in Forbes and the Wall Street Journal, LORETTA NAPOLEONI was born in 1955 in Rome. In the mid 1970s she became an active member of the feminist movement in Italy, and later studied as a Fulbright Scholar at Johns Hopkins University's Paul H. Nitze School of Advanced International Studies in Washington, D.C. She began her career as an economist, and went on to work as London correspondent and columnist for La Stampa, La Repubblica and La Paîs. Napoleoni is the author of the international bestsellers Rogue Economics: Capitalism's New Reality and Terror Incorporated: Tracing the Money Behind Global Terrorism. She has served as the Chairman of the countering terrorism financing group for the Club de Madrid, and lectures regularly around the world on economics, money laundering and terrorism. Napoleoni lives in London and Montana. 
or
Not Currently Available for Direct Purchase