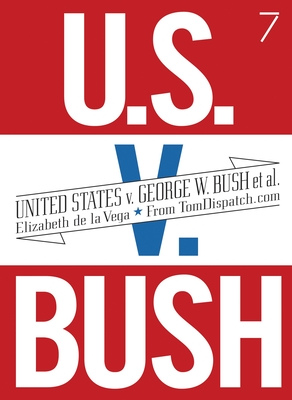 United States v. George W. Bush et al. (Paperback)
Seven Stories Press, 9781583227565, 256pp.
Publication Date: November 7, 2006
* Individual store prices may vary.
Description
A New York Times Bestseller

What if there were a fraud worse than Enron and no one did anything about it?
In United States v. George W. Bush et. al., former federal prosecutor Elizabeth de la Vega brings her twenty years of experience and her passion for justice to the most important case of her career. The defendants are George W Bush, Richard Cheney, Donald Rumsfeld, Condoleezza Rice, and Colin Powell. The crime is tricking the nation into war, or, in legal terms, conspiracy to defraud the United States.
Ms. de la Vega has reviewed the evidence, researched the law, drafted an indictment, and in this lively, accessible book, presented it to a grand jury. If the indictment and grand jury are both hypothetical, the facts are tragically real: Over half of all Americans believe the president misled the country into a war that has left 2,500 hundred American soldiers and countless Iraqis dead. The cost is $350 billion -- and counting.
The legal question is: Did the president and his team use the same techniques as those used by Enron's Ken Lay, Jeffrey Skilling, and fraudsters everywhere -- false pretenses, half-truths, deliberate omissions -- in order to deceive Congress and the American public?
Take advantage of this rare opportunity to "sit" with the grand jurors as de la Vega presents a case of prewar fraud that should persuade any fair-minded person who loves this country as much as she so obviously does. Faced with an ongoing crime of such magnitude, she argues, we can not simply shrug our shoulders and walk away.
About the Author
ELIZABETH DE LA VEGA, a former federal prosecutor, was an Assistant U.S. Attorney in Minneapolis as well as a member of the Organized Crime Strike Force and Branch Chief in San Jose, California. Since her retirement in 2004, she has been a regular contributor to Tomdispatch. Her articles have also appeared in the Nation, the LA Times, Salon, and Mother Jones. She is not in the Witness Protection Program.
or
Not Currently Available for Direct Purchase