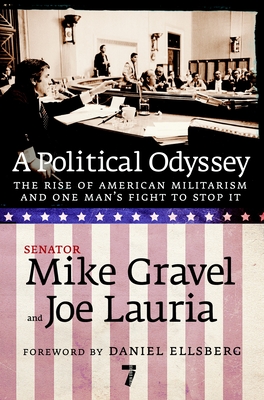 A Political Odyssey: The Rise of American Militarism and One Man's Fight to Stop It (Paperback)
The Rise of American Militarism and One Man's Fight to Stop It
Seven Stories Press, 9781583228265, 287pp.
Publication Date: July 1, 2008
* Individual store prices may vary.
or
Not Currently Available for Direct Purchase
Description
In this candid portrait, former two-term senator from Alaska and 2008 presidential candidate Gravel expounds on his views of the military-industrial complex, the imperial presidency, postwar US foreign policy, and corporate America; critically assesses figures he worked with, such as Jimmy Carter and Ted Kennedy; and reveals the private life behind the public persona. When he isn't being actively silenced, Senator Gravel's voice is generally acknowledged to be the most refreshing and honest of all the 2008 presidential candidates.
About the Author
MIKE GRAVEL is most prominently known for releasing the Pentagon Papers--the secret official study revealing the manipulations of successive US administrations that misled the country into the Vietnam War. In 1971, he waged a successful one-man filibuster for five months that forced the Nixon administration to cut a deal, effectively ending the draft in the United States. His publications include The Senator Gravel Edition: The Pentagon Papers, Jobs and More Jobs, and Citizen Power.

JOE LAURIA is a New York-based journalist. He has covered foreign policy at the United Nations for nearly two decades for numerous newspapers, including the Boston Globe, the Montreal Gazette, and the Johannesburg Star. His articles have also appeared in the Sunday Times of London as part of its investigative unit, the New York Times, the Washington Post, New York Magazine, and the Huffington Post, among other publications.
Advertisement