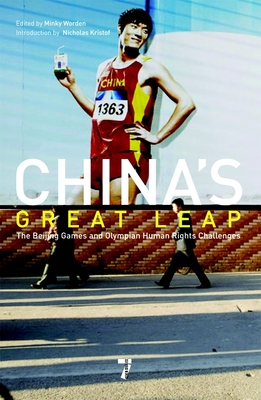 China's Great Leap: The Beijing Games and Olympian Human Rights Challenges (Paperback)
The Beijing Games and Olympian Human Rights Challenges
Seven Stories Press, 9781583228432, 330pp.
Publication Date: May 6, 2008
* Individual store prices may vary.
or
Not Currently Available for Direct Purchase
Description
With contributions from some of the most well respected and experienced Chinese writers, journalists, and organizers, China's Great Leap examines the People's Republic of China as its government and 1.3 billion people prepare for the 2008 Olympic Games. When Beijing first sought the Games, China was still recovering from the upheavals of Maoist rule and adapting to a market revolution. Today, China wants to engage with the outside world while fully controlling the engagement. How will the new leaders in Beijing manage the Olympic process and the internal and external pressures for reform it creates? China's Great Leap will illuminate China's recent history and outline how domestic and international pressures in the context of the Olympics could achieve human rights change. Learn about key areas for human rights reform and how the Olympics could represent a possible great leap forward for the people of China and for the world.
About the Author
As Human Rights Watch's Director of Global Initiatives, MINKY WORDEN develops and implements international outreach and advocacy campaigns. Before joining Human Rights Watch in 1998, Ms. Worden worked in Hong Kong and in Washington, D.C. at the Department of Justice. A member of the "Council on Foreign Relations," she is the editor of "China's Great Leap: The Beijing Games" "and Olympian Human Rights Challenges" and the co-editor of "Torture: Does It Make Us Safer? Is It Ever OK?: A Human Rights Perspective." Worden lives in New York.
Advertisement