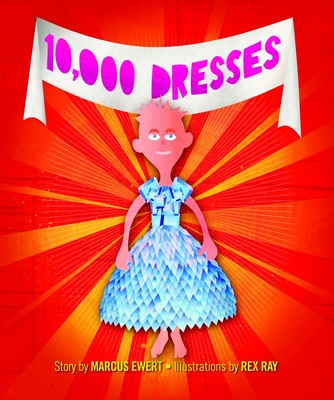 10,000 Dresses
Hardcover

* Individual store prices may vary.
Description
Every night, Bailey dreams about magical dresses: dresses made of crystals and rainbows, dresses made of flowers, dresses made of windows. . . . Unfortunately, when Bailey's awake, no one wants to hear about these beautiful dreams. Quite the contrary. "You're a BOY!" Mother and Father tell Bailey. "You shouldn't be thinking about dresses at all." Then Bailey meets Laurel, an older girl who is touched and inspired by Bailey's imagination and courage. In friendship, the two of them begin making dresses together. And Bailey's dreams come true!

This gorgeous picture book—a modern fairy tale about becoming the person you feel you are inside—will delight people of all ages.
Praise For 10,000 Dresses…
"Three cheers for Bailey, whose creativity and artistic vision will inspire readers of all ages to celebrate exactly who they are." —Leslea Newman, author of Heather Has Two Mommies

"My own favorite (and one of my daughters' favorite) books about being a 'gender variant' kid, 10,000 Dresses by Marcus Ewert. Bailey is a little girl whose family are all convinced that she is a boy. At night she dreams of beautiful dresses and by day she tries to share her visions with the world. Her family all refuse to listen, but in the end, she meets someone who understands and together they make her dream designs come true." —Lesbian Family

"I love this book! If I had read it growing up, I might have felt better about my dress-wearing habit." —Isaac Mizrahi

"Marcus Ewert's 10,000 Dresses is a joyous book about self-acceptance and identity. It is also the only children's picture book that features an openly transgender protagonist, and does so with both sensitivity and celebration." –Philadelphia Gay News

"If you are a member of an LGBT family with young children, or the friend or ally of an LGBT family with young children, and want to expose your children to what the broad LGBT community looks like, you need to expose yourself and these children to the picture book 10,000 Dresses." –Pam's House Blend

"Bailey is a wonderful creation, but then again so are the dresses she dreams up; the illustrations by Rex Ray have a sleek, artful look." –Edge Boston
Triangle Square, 9781583228500, 32pp.
Publication Date: November 4, 2008
About the Author
An actor, writer, and director, MARCUS EWERT is also the creator of the hit animated children's series Piki & Polo, which appeared on MTV's Logo channel. He is currently writing a memoir of his time with Allen Ginsberg and William S. Burroughs. Ewert lives in San Francisco.
or
Not Currently Available for Direct Purchase