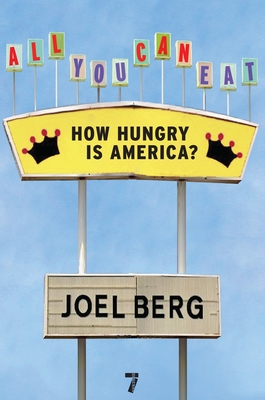 All You Can Eat
How Hungry is America?
Paperback

* Individual store prices may vary.
Description
With the biting wit of Supersize Me and the passion of a lifelong activist, Joel Berg has his eye on the growing number of people who are forced to wait on lines at food pantries across the nation—the modern breadline. All You Can Eat reveals that hunger is a problem as American as apple pie, and shows what it is like when your income is not enough to cover rising housing and living costs and put food on the table.
Berg takes to task politicians who remain inactive; the media, which ignores hunger except during holidays and hurricanes; and the food industry, which makes fattening, artery-clogging fast food more accessible to the nation's poor than healthy fare. He challenges the new president to confront the most unthinkable result of US poverty—hunger—and offers a simple and affordable plan to end it for good.
A spirited call to action, All You Can Eat shows how practical solutions for hungry Americans will ultimately benefit America's economy and all of its citizens.
Praise For All You Can Eat: How Hungry is America?…
"Berg, executive director of the New York City Coalition Against Hunger, spotlights domestic poverty and hunger in this book that has sharp words for politicians, charities and religious denominations. The author reveals how consistently the federal government has ignored the fact that 35.5 million Americans, including 12.6 million children, don't have enough to eat. Although local governments cared for hungry and poverty-stricken citizens in the pre-Depression years, contemporary politicos in Washington have alternately denied that hunger is a problem, then admitted its existence, then tried to eradicate it with programs that rarely last. Whether he is reasoning why the word hunger is better and more to-the-point than the government's term food insecure, pillorying hunger surveys that don't count the homeless or demonstrating how even well-meaning social services contribute to the problem, Berg is a passionate and articulate advocate." –Publishers Weekly


"Hunger is a national disgrace in America. Joel Berg has, in a straightforward and provocative way, given all of us a framework with which to deal with it." –Dan Glickman, Former Secretary of Agriculture


"Joel Berg unmasks this invisible crisis in his well-researched book just as it threatens to get even worse. A must-read for policy makers and anyone interested in the well-being of tens of millions of Americans." –Dale Maharidge, Pulitzer Prize-winning author of And Their Children After Them, and associate professor at the Graduate School of Journalism, Columbia University


"Joel Berg is, flat out, one of the boldest thinkers in the fight [against hunger], and All You Can Eat will prove it." –Robert Egger, founder of DC Central Kitchen and author of Begging for Change


"All You Can Eat makes the powerful case that Americans have both a moral imperative and a collective self-interest to end hunger." –Dr. J. Larry Brown, Harvard School of Public Health
Seven Stories Press, 9781583228548, 352pp.
Publication Date: November 4, 2008
About the Author
JOEL BERG is Executive Director of the New York City Coalition Against Hunger (NYCCAH). He served for eight years under the Clinton Administration in Senior Executive Service positions in the US Department of Agriculture (USDA), creating a number of high-profile initiatives that fought hunger and implemented national service projects across the country.
or
Not Currently Available for Direct Purchase