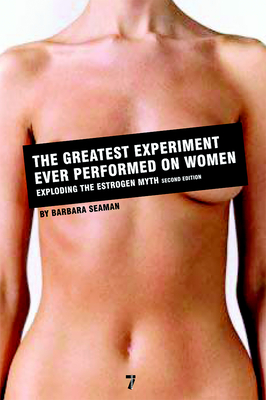 The Greatest Experiment Ever Performed on Women: Exploding the Estrogen Myth (Paperback)
Exploding the Estrogen Myth
Seven Stories Press, 9781583228623, 334pp.
Publication Date: September 1, 2009
* Individual store prices may vary.
or
Not Currently Available for Direct Purchase
Description
With the ardent tone of a close friend, Barbara Seaman draws on forty years of journalistic research to expose the "menopause industry" and shows how estrogen therapy often causes more problems including breast cancer, heart attack, and stroke than it cures. The Greatest Experiment Ever Performed on Women tracks the well-intentioned discovery of synthetic estrogen through the unconscionable and misleading promotion of a dangerous drug.
About the Author
One of the nation s most tireless health advocates, BARBARA SEAMAN(1935-2008) co-founded the National Women s Health Network and pioneered a new style of health reporting that focused on patients rights. Her groundbreaking investigative book, "The Doctor s Case Against the Pill" (1969), prompted Senate hearings in the 1970s that led to a warning label on oral contraceptives and the drastic lowering of estrogen doses due to dangerous health effects. Dedicated to reaching a wide audience, Seaman wrote columns for "Brides Magazine," " Ladies Home Journal," and "Ms.," inspiring women around the world to take control of their own health. Seaman was a founding advisory board member of and key advisor to Seven Stories Press."
Advertisement