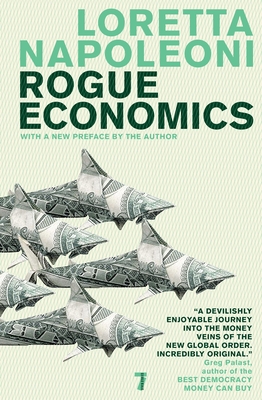 Rogue Economics (Paperback)
Seven Stories Press, 9781583228821, 336pp.
Publication Date: September 1, 2009
Other Editions of This Title:
Hardcover (3/18/2008)
* Individual store prices may vary.
Description
What do Eastern Europe's booming sex trade, America's subprime mortgage lending scandal, China's fake goods industry, and celebrity philanthropy in Africa have in common? With biopirates trolling the blood industry, fish-farming bandits ravaging the high seas, pornography developing virtually in Second Life, and games like World of Warcraft spawning online sweatshops, how are rogue industries transmuting into global empires? And will the entire system be transformed by the advent of sharia economics? With the precision of an economist and the narrative deftness of a storyteller, syndicated journalist Loretta Napoleoni examines how the world is being reshaped by dark economic forces, creating victims out of millions of ordinary people whose lives have become trapped inside a fantasy world of consumerism. Napoleoni reveals the architecture of our world, and in doing so provides fresh insight into many of the most insoluble problems of our era.
About the Author
A woman of the Left who garners praise from Noam Chomsky and Greg Palast at the same time as she is quoted respectfully in Forbes and the Wall Street Journal, LORETTA NAPOLEONI was born in 1955 in Rome. In the mid 1970s she became an active member of the feminist movement in Italy, and later studied as a Fulbright Scholar at Johns Hopkins University's Paul H. Nitze School of Advanced International Studies in Washington, D.C. She began her career as an economist, and went on to work as London correspondent and columnist for La Stampa, La Repubblica and La Paîs. Napoleoni is the author of the international bestsellers Rogue Economics: Capitalism's New Reality and Terror Incorporated: Tracing the Money Behind Global Terrorism. She has served as the Chairman of the countering terrorism financing group for the Club de Madrid, and lectures regularly around the world on economics, money laundering and terrorism. Napoleoni lives in London and Montana. 
or
Not Currently Available for Direct Purchase