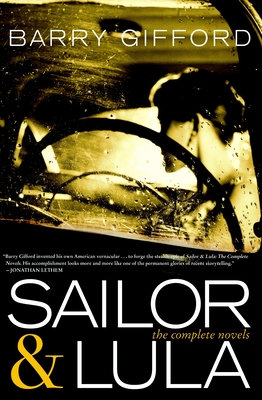 Sailor & Lula
The Complete Novels
Paperback

* Individual store prices may vary.
Description
On the twentieth anniversary of the publication of Barry Gifford's international bestseller, Wild at Heart, as well as the anniversary of the Palme d'Or–winning film adaptation by director David Lynch, Sailor & Lula: The Complete Novels presents all of the novels and novellas that comprise the saga of Sailor Ripley and Lula Pace Fortune, "the Romeo and Juliet of the South": Wild at Heart, Perdita Durango (also made into a feature film), Sailor's Holiday, Sultans of Africa, Consuelo's Kiss, Bad Day for the Leopard Man, and The Imagination of the Heart.
Praise For Sailor & Lula: The Complete Novels…
"Barry Gifford invented his own American vernacular—William Faulkner by way of B-movie film noir, porn paperbacks, and Sun Records rockabilly—to forge the stealth-epic of Sailor & Lula. His accomplishment looks more and more like one of the permanent glories of recent storytelling, a set of crude masterpieces like Philip Guston's late paintings. The compression and verve on view on every page of this compendium is as irresistible and dizzying as a dish of brandy-filled chocolates forged in shapes of pistols, hangmen's ropes, convertible automobiles, and unclad, steamy bodies, daring you to keep gobbling them up." –Jonathan Lethem

"I saw Sailor and Lula in love in the middle of a crazy, violent, wild world, and I wanted to go on that trip with them … It's like looking into the Garden of Eden before things went bad." –David Lynch

"Barry Gifford is now more than forty years and forty books into his career, yet still no one seems to know what to do with him … The experience of reading Gifford is like starting a car and realizing, too late, that someone has cut its brake lines. A spectacular wreck is imminent, so you might as well enjoy the adrenaline rush … The thrill of the Sailor & Lula books is in seeing how horribly a human life—or an entire society—can spiral out of control. But the gruesome dismemberments, car wrecks, and point-blank gunshots only entertain for so long. The image that lingers in the reader's imagination, long after the series ends, is far more sedate and ordinary: Sailor and Lula, embracing in a cheap motel bed, telling each other stories to ward off the nightmares that they know will come." –Nathaniel Rich, New York Review of Books

"There are precious few literary landscapes where this particular sort of true romance burns as hot and sweet and altogether cool as in Gifford's sprawling, epically Southern gothic novels … a pulpy, meridianal meditation on love and death in the dirty South, hugely entertaining and often frenzied in their depiction of Sailor and Lula's misadventures into random, swampy chaos but also written in the kind of watertight, blunt-edged prose that recalls Jim Thompson filtered through some awesomely hyper-Americanized hybrid of Fellini and Katherine Dunn … Too cool." –Marc Savlov, Austin Chronicle
Seven Stories Press, 9781583229101, 624pp.
Publication Date: May 4, 2010
About the Author
The author of more than forty works of fiction, nonfiction, and poetry, which have been translated into over twenty-five languages, BARRY GIFFORD writes distinctly American stories for readers around the globe. From screenplays and librettos to his acclaimed Sailor and Lula novels, Gifford's writing is as distinctive as it is difficult to classify. Born in the Seneca Hotel on Chicago's Near North Side, he relocated in his adolescence to New Orleans. The move proved significant: throughout his career, Gifford's fiction—part-noir, part-picaresque, always entertaining—is born of the clash between what he has referred to as his "Northern Side" and "Southern Side." Gifford has been recipient of awards from PEN, the National Endowment for the Arts, the American Library Association, the Writers Guild of America and the Christopher Isherwood Foundation. His novel Wild at Heart was adapted into the 1990 Palme d'Or-winning film of the same name. Gifford lives in the San Francisco Bay Area.
or
Not Currently Available for Direct Purchase