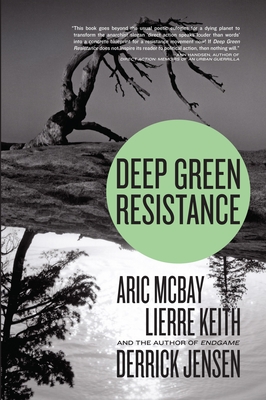 Deep Green Resistance
Strategy to Save the Planet
Paperback

* Individual store prices may vary.
Description
For years, Derrick Jensen has asked his audiences, "Do you think this culture will undergo a voluntary transformation to a sane and sustainable way of life?" No one ever says yes.
Deep Green Resistance starts where the environmental movement leaves off: industrial civilization is incompatible with life. Technology can't fix it, and shopping—no matter how green—won't stop it. To save this planet, we need a serious resistance movement that can bring down the industrial economy. Deep Green Resistance evaluates strategic options for resistance, from nonviolence to guerrilla warfare, and the conditions required for those options to be successful. It provides an exploration of organizational structures, recruitment, security, and target selection for both aboveground and underground action. Deep Green Resistance also discusses a culture of resistance and the crucial support role that it can play.
Deep Green Resistance is a plan of action for anyone determined to fight for this planet—and win.
Praise For Deep Green Resistance: Strategy to Save the Planet…
"This book goes beyond the usual poetic eulogies for a dying planet to transform the anarchist slogan 'direct action speaks louder than words' into a concrete blueprint for a resistance movement now! If Deep Green Resistance does not inspire its reader to political action, then nothing will." —Ann Handsen, author of Direct Action: Memoirs of an Urban Guerilla

"With clear, sober analysis, and facts that include the reality of runaway global climate change and that of 200 species being made extinct every day, the severity and urgency of our collective crisis is laid bare. Deep Green Resistance then asks, 'Do we want to feel better or do we want to be effective?'" —Dahr Jamail, author of The End of Ice

"Deep Green Resistance posits, I fear correctly, that resistance will have to become more militant and perhaps even resort to physical acts of confrontation with the corporate leviathan." —Chris Hedges, author of War Is a Force That Gives Us Meaning
Seven Stories Press, 9781583229293, 560pp.
Publication Date: May 3, 2011
About the Author
DERRICK JENSEN is the best-known voice of the deep ecology movement. Winner of numerous awards and honors including the Eric Hoffer Book Award, USA Today's Critic's Choice, and Press Action's person of the Year, Jensen is the author of over fifteen books, including Endgame and Deep Green Resistance (with Aric McBay and Lierre Keith). Philosopher, teacher, and radical activist, he regularly rouses packed auditoriums across the country with his revolutionary spirit. Jensen holds degrees in creative writing and mineral engineering physics. He lives in Crescent City, California.

Writer, activist, and small-scale organic farmer ARIC MCBAY works to share information about community sufficiency and off-the-grid skills. He is the author of Peak Oil Survival: Preparation for Life after Gridcrash and creator of "In the Wake: A Collective Manual-in-Progress for Outliving Civilization" (www.inthewake.org).

LIERRE KEITH is a writer, small farmer, and radical feminist activist. She is the author of two novels, as well The Vegetarian Myth: Food, Justice, and Sustainability, which has been called "the most important ecological book of this generation." She's also been arrested six times. She lives in Humboldt County, CA.
or
Not Currently Available for Direct Purchase