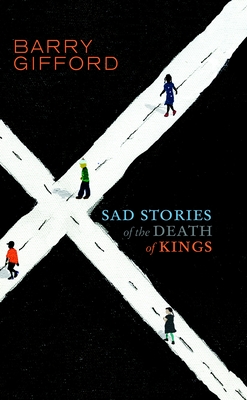 Sad Stories of the Death of Kings
Hardcover

* Individual store prices may vary.
Other Editions of This Title:
Paperback (10/19/2010)
Description
Roy is a lover of adventure movies, a budding writer, and a young man slowly coming of age without the benefit of a father. Surrounding him—whether to support him or to drag him under—is the adult world of postwar Chicago, a city haunted by violence, poverty, and the redeeming power of imagination. Here are charlatans, operators, alien abductees, schoolyard nudists, and fast girls with only months to live. At the center of it all is a boy learning to navigate the compromises, disillusionments and regrets that come with the territory of living. Mixing memoir and invention, the forty-one short stories in Barry Gifford's first book for young adults bring a city—and a boy's growing consciousness—to vivid, unflinching life.
Praise For Sad Stories of the Death of Kings…
"Gifford's work falls into two camps: the edgy, wildly eccentric stories, full of weirdness and perversity but portraying characters who exude a bedrock humanity … and the more realistic, coming-of-age tales that find young innocents thrust with open eyes into a world of pain. His latest collection of stories falls squarely into the second category … Like Gifford, [Roy] always finds the warm hearts beating beneath the sadness." –Booklist

"Deliciously Giffordesque, full of sudden and swift-passing flares of insight, as if lit from within by match flame." –Jonathan Kiefer, San Francisco Weekly

"Gifford's great talent captures defining moments with the casual grace of anecdote. [He] makes the anecdotal monumental." –Jonathan Keats, San Francisco Magazine

"Barry Gifford's Sad Stories of the Death of Kings gleams like a stolen silver dollar; one boy's search for wisdom among the hustlers, criminals, and wise guys that reads as evocatively as anything out of Nelson Algren. These stories, sometimes only a page or two, riddled with sharp, subtle dialogue, all glow with the devastating, sometimes gruesome wisdom of Sherwood Anderson and Flannery O'Connor." –Joe Meno, author of The Great Perhaps and Hairstyles of the Damned



Triangle Square, 9781583229484, 224pp.
Publication Date: November 23, 2010
About the Author
The author of more than forty works of fiction, nonfiction, and poetry, which have been translated into over twenty-five languages, BARRY GIFFORD writes distinctly American stories for readers around the globe. From screenplays and librettos to his acclaimed Sailor and Lula novels, Gifford's writing is as distinctive as it is difficult to classify. Born in the Seneca Hotel on Chicago's Near North Side, he relocated in his adolescence to New Orleans. The move proved significant: throughout his career, Gifford's fiction—part-noir, part-picaresque, always entertaining—is born of the clash between what he has referred to as his "Northern Side" and "Southern Side." Gifford has been recipient of awards from PEN, the National Endowment for the Arts, the American Library Association, the Writers Guild of America and the Christopher Isherwood Foundation. His novel Wild at Heart was adapted into the 1990 Palme d'Or-winning film of the same name. Gifford lives in the San Francisco Bay Area.
or
Not Currently Available for Direct Purchase