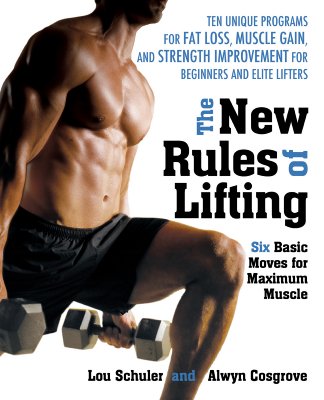 New Rules of Lifting: Six Basic Moves for Maximum Muscle (Hardcover)
Six Basic Moves for Maximum Muscle
Avery, 9781583332382, 320pp.
Publication Date: December 29, 2005
* Individual store prices may vary.
or
Not Currently Available for Direct Purchase
Description
A revolutionary method of weight lifting using today's science for maximum results.

In The New Rules of Lifting, fitness guru Lou Schuler and strength-training expert Alwyn Cosgrove boil down the most recent findings on weight lifting and fitness to create a program of workouts that focuses on the movements at which the body naturally excels. These six "real-life" movements-squat, bend, lunge, push, pull, and twist-compose three complete programs for three distinct goals: fat loss, muscle gain, and strength improvement.

At home or at the gym, these routines can be mixed and matched for a year's worth of workouts that will keep boredom at bay and lifters challenged long after most plans have called it quits. And while coordinated, useful muscles will always turn heads at the beach, they'll also help you live better and longer. Besides providing comprehensive workout programs, The New Rules of Lifting covers much-needed background on aspects of lifting that are often overlooked, like warming up, nutrition, and meal planning. Throughout, Schuler and Cosgrove debunk strength-training myths, troubleshoot dangerous pitfalls, and clearly illustrate moves with black-and-white photographs.
About the Author
Lou Schuler, editorial director for T-Nation.com, is a National Magazine Award-winning journalist, certified strength and conditioning specialist, and author or coauthor of several popular books about diet and strength training, including "Testosterone Advantage Plan," "Home Workout Bible," "Book of Muscle," and "The New Rules of Lifting." He lives in Allentown, Pennsylvania, with his wife and three children.
Advertisement