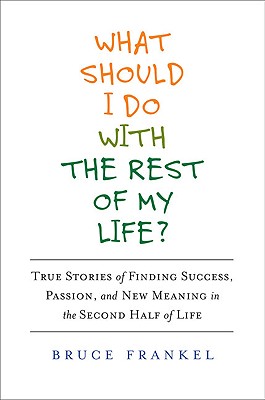 What Should I Do with the Rest of My Life? (Hardcover)
True Stories of Finding Success, Passion, and New Meaning in the Second Half of Life
Avery, 9781583333655, 304pp.
Publication Date: March 4, 2010
* Individual store prices may vary.
or
Not Currently Available for Direct Purchase
Description
Read Bruce Frankel's posts on the Penguin Blog

An award-winning journalist offers exhilarating tales of "late bloomers" who prove that it's never too late to sign a new lease on life

In today's world, the question "What should I do with my life?" only scratches the surface. Now, more and more people-from baby boomers retiring from their "first act" to people in their forties and fifties forced to reconsider their careers in this gloomy economy-are finding themselves wondering how to find new stimulation and meaningful work over a lifetime. Bringing together a diverse array of stories, veteran journalist Bruce Frankel brings to life a mesmerizing series of profiles of men and women who discovered a new calling, success, or purpose later in life. Brimming with inspiration and humanity, What Should I Do With the Rest of My Life? celebrates activists, artists, entrepreneurs, filmmakers, and others who found extraordinary ways to experience true fulfillment in the second half of life.

On these pages, readers will meet a civil servant, laid off at age fifty- two, who enrolled in graduate school, earning a Ph.D. in psychology; a former consultant who began a microfinance program in Africa; a longtime contact-lens grinder who has chisled twelve hundred stone heads on a property now known as the "Easter Island of the Hudson"; and many others who proved that age is a spark-not a barrier. Full of spirit and plenty of chutzpah, this book shows that anything is possible in any stage of life.


About the Author
Bruce Frankel is a writer, reporter, and poet. At the age of fifty-three, he completed an MFA program at Sarah Lawrence College and began publishing in literary journals. He coauthored the bestseller "Life: World War II - History's Great Conflict in Pictures" and has held positions at "People, USA Today," and Gannett Westchester Newspapers, where he was a prizewinning columnist and investigative reporter. He lives in New York City.
Advertisement