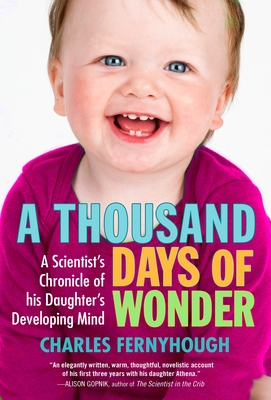 A Thousand Days of Wonder (Paperback)
A Scientist's Chronicle of His Daughter's Developing Mind
Avery, 9781583333976, 272pp.
Publication Date: May 4, 2010
Other Editions of This Title:
Hardcover (4/2/2009)
* Individual store prices may vary.
Description
A father's intimate look at his daughter's developing mind from birth to age three

Unlike any other time in our lives, we remember almost nothing from our first three years. As infants, not only are we like the proverbial blank slate but our memories are like teflon: nothing sticks. In this beautifully written account of his daughter's first three years, Charles Fernyhough combines his vivid observations with a synthesis of developmental theory, re-creating what that time, lost to the memory of adults, is like from a child's perspective.

In A Thousand Days of Wonder, Fernyhough, a psychologist and novelist, attempts to get inside his daughter's head as she acquires all the faculties that make us human, including social skills, language, morality, and a sense of self. Written with a father's tenderness and a novelist's empathy and style, this unique book taps into a parent's wonder at the processes of psychological development.
About the Author
Charles Fernyhough studied developmental psychology at Cambridge University and is now a part time lecturer in psychology at Durham University. He lives in County Durham with his wife and two children. He is the author of a novel, The Auctioneer and has published over thirty scientific journal articles and two academic books.
Praise For A Thousand Days of Wonder: A Scientist's Chronicle of His Daughter's Developing Mind…
"Many psychologists, most notably Jean Piaget, have used their offspring as test subjects, but none has done so with such sweetness as Fernyhough brings to his account of his daughter's development during the first three years of her life. From her initial appearance on a sonogram, we watch as baby Athena sorts out her sensory input, recognizes her self, learns that other people are more than extensions of her own will, and walks, talks, and remembers. All of this is basic developmental psych, readily available in many forms, including parenting manuals and textbooks. What makes this title outstanding is that it reads like fiction. (In addition to being a psychologist, the author is also a published novelist.) In vignettes about life with Athena, Fernyhough beautifully captures the mix of frustration and poignancy that will seem achingly familiar to all parents of toddlers. This beautiful book is highly recommended."
-Mary Ann Hughes, formerly Neill P.L., Pullman, WA

"An ambitious and highly intelligent piece of work. If the basis of love is attention, a quality of attention, then Fernyhough has written a 250-page love letter to his daughter. And any parent, particularly one with a young child, will be both moved and enlightened by it."
-Financial Times

"A cross between a biography of a baby growing into a child, a scientists's case-study notes and a beautifully written novel."
-The Guardian [from feature article]

"A triumph of informed imagination and a startling testament of love."
-Sunday Telegraph

"A book that takes the reader right to the heart of how we become human and how we deal with it."
-The Scotsman

"But The Baby In The Mirror is also a memoir of sorts, a hymn to a child from a loving father. And that is how it reads."
-Sunday Herald

"An elegantly written, warm, thoughtful, novelistic account of [Fernyhough's] first three years with his daughter Athena."
-Alison Gopnik, author of The Philosophical Baby

"Charles Fernyhough . . . provides an intimate and loving perspective on the emergence of language, consciousness, and autonomy. I have never seen such a beautifully written book on this topic; it is essential reading for both psychologists and new parents."
-Paul Bloom, professor of psychology at Yale University and author of Descartes' Baby: How the Science of Child Development Explains What Makes Us Human

"[A Thousand Days of Wonder] is a marvelous addition to the very narrow shelf of books that take a genuinely respectful interest in the developing minds of young children . . . [Fernyhough] combines a researcher's insights with a parent's unique empathy to create a moving portrait of human consciousness."
-Brian Hall, author of Madeleine's World

"Charles Fernyhough has created . . . an imaginative, accessible account of the stunning possibilities inherent in [a] young child's developing mind. Parents, teachers, students of early childhood development-indeed, anyone interested in understanding young children's rapidly emerging mentality and personhood-will find this book profoundly informative, awe-inspiring, and engrossing."
-Laura E. Berk, distinguished professor of psychology at Illinois State University and author of Awakening Children's Minds: How Parents and Teachers Can Make a Difference