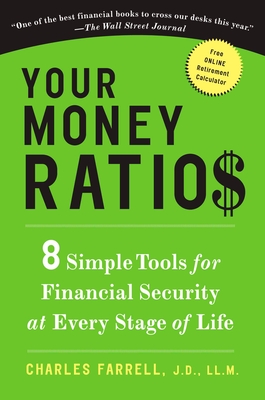 Your Money Ratios
8 Simple Tools for Financial Security at Every Stage of Life
Paperback

* Individual store prices may vary.
Description
A leading financial adviser offers a groundbreaking and simple approach to tackling personal finance by breaking down formulas used by the most successful businesses.

A troubled economy calls for answers. People need sound, easy-to-follow financial advice that can be implemented immediately. For the first time, a leading financial adviser has developed a remarkable set of guidelines to give individuals the same kind of objective insight into their personal finances that successful businesses have. Your Money Ratios will help readers effectively manage debt, invest prudently, and develop a realistic and effective savings plan to ensure both financial success and security. Readers need only plug their income and age into Farrell's ratios to get an instant picture of their savings status and overall financial health, as well as a road map for the important choices for the future. Some key ratios include:

? The Capital-to-Income Ratio: how much capital (savings) you should have if you plan to retire at 65
? The Mortgage-to-Income Ratio: the maximum mortgage debt you should carry and still have sufficient capital left for comfortable savings
? The Education-to-Average-Income Ratio: the amount of education- related debt you can safely incur based on anticipated average earnings after obtaining your degree
Praise For Your Money Ratios: 8 Simple Tools for Financial Security at Every Stage of Life…
"Your Money Ratios is a no-nonsense, comprehensive resource for those ready to grab the reins of personal finance once and for all."
-Bookpage

"Your Money Ratios by Charles Farrell (Avery, $26). Why not manage your family finances as you would a business? Farrell is a money manager who makes a convincing argument for that approach. He uses rations more common in the business world, such as the debt-to-equity ratio and the capital to income ratio so that readers can figure out how they are really doing. The book is direct and numbers-focused, and offers answers to questions like "How much should I be saving?" and "How much insurance do I need?"
-Reuters

"Charles Farrell, an investment adviser in Denver, has long written about financial planning. In particular, he has developed, in recent years, some of the smartest tools we've seen for gauging the health of your nest egg. Now, he has combined these calculators with additional guidelines in a new book, Your Money Ratios: Eight Simple Tools for Financial Security. Mr. Farrell uses easy-to-understand ratios to help individuals manage savings, debt, investments and insurance, all with the goal of achieving a secure retirement. In short, one of the best financial books to cross our desks this year."
-Wall Street Journal

"What I like about the use of ratios is that it imposes discipline on emotional spending decisions. When you do the math based on specific goals, real household income and exact time frames related to age, it becomes crystal clear that you really can't afford to blow out the back of your home or expand the kitchen, no matter how attractive or tax-deductible the financing may be."
-Laura Rowley, Yahoo Finance

"Everyone wants to know, 'Am I on the right track?' Thanks to Charlie Farrell and his delightfully simple Money Ratios, the answers are just a few pages away."
-Jonathan Clements, author of The Little Book of Main Street Money
Avery, 9781583334164, 272pp.
Publication Date: December 28, 2010
About the Author
Charles Farrell, J.D., LL.M., is an investment adviser with Northstar Investment Advisors, which has more than $300 million assets under management. His column, "Retirement Roadmap," appears on the CBS Moneywatch site, and his research is frequently cited in The Wall Street Journal, Smart Money, the Chicago Tribune, and many other consumer and professional media outlets. He lives in Denver, Colorado.
or
Not Currently Available for Direct Purchase