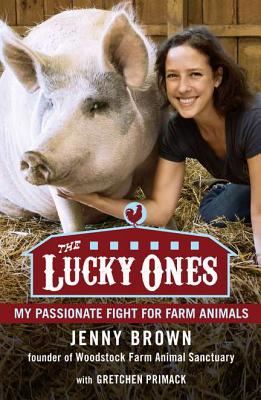 The Lucky Ones
My Passionate Fight for Farm Animals
Hardcover

* Individual store prices may vary.
Other Editions of This Title:
Paperback (7/2/2013)
Description
Jonathan Safran Foer meets Jeffrey Moussaieff Mason in a poignant, provocative memoir of survival, compassion, and awakening to the reality of our food system.
Jenny Brown was just ten years old when she lost a leg to bone cancer. Throughout the ordeal, her constant companion was a cat named Boogie. Years later, she would make the connection between her feline friend and the farm animals she ate, acknowledging that most of America's domesticated animals live on industrialized farms, and are viewed as mere production units. Raised in a conservative Southern Baptist family in Kentucky, Brown had been taught to avoid asking questions. But she found her calling and the courage to speak out. She left a flourishing career as a film and television producer after going undercover and exposing horrific animal abuse in Texas stockyards.
Bringing to life this exhilarating transformation, "The Lucky Ones "introduces readers to Brown's crowning achievement, the renowned Woodstock Farm Animal Sanctuary she established with her husband in 2004. With a cast of unforgettable survivors, including a fugitive slaughterhouse cow named Kayli; Albie, the three-legged goat; and Quincy, an Easter duckling found abandoned in New York City, "The Lucky Ones "reveals shocking statistics about the prevalence of animal abuse throughout America's agribusinesses. Blending wry humor with unflinching honesty, Brown brings a compelling new voice to the healthy-living movement and to the vulnerable, voiceless creatures among us.
Praise For The Lucky Ones: My Passionate Fight for Farm Animals…
"I've been a fan of Jenny's sense of humor and passion for years, but my appreciation has just reached a whole new level. I LOVED, LOVED, LOVED this book. I laughed, I cried, and I marveled at this remarkable woman and her incredible story. The Lucky Ones is an absolute treasure."
– Rory Freedman, bestselling author of Skinny Bitch

"The Lucky Ones is a passionate, approachable story that lets us see the connections between us and the rest of the being with whom we share the planet. It'll make you want to hug a bunny!"
–Isa Chandra Moskowitz, bestselling author of Vegan with a Vengeance

"If you care about animals, and if you believe that actions speak louder than words, The Lucky Ones is written for you. It will open your heart and inspire you to greater alignment between your compassion and your life. Jenny Brown's book is beautiful and a blessing."
–John Robbins, bestselling author of The Food Revolution

"Most people are grossly uninformed about the abuses and hazards of animal agriculture. Shining a light on the appalling practices behind America's agribusinesses, The Lucky Ones is an eye-opening, candid, and irreverently funny memoir from an inspirational activist who shows how much difference one person can make in the world."
–Gene Baur, founder of Farm Sanctuary and bestselling author of Farm Sanctuary: Changing Hearts and Minds about Animals and Food

"Jenny is a bold, straight-shooting activist whose inspiring story will motivate everyone who wants to help end the suffering of those who can't speak for themselves."
–Doron Petersan, author of Sticky Fingers' Sweets

"Jenny Brown is a tireless advocate for precious, yet voiceless creatures everywhere. Her new book The Lucky Ones is powerful, beautiful and heartbreaking – in the best way. This book could change the world, but only if you read it." –Kris Carr, bestselling author of Crazy Sexy Diet
Avery Publishing Group, 9781583334416, 289pp.
Publication Date: August 2, 2012
About the Author
Jenny Brown is the cofounder and director of the Woodstock Farm Animal Sanctuary a not-for-profit organization and farm animal shelter a vegan animal rights activist, and previously worked as a television producer until 2002.

Poet and journalist Gretchen Primack is the author of the chapbook, "The Slow Creaking of Planets."

Both authors live in Ulster County, New York."
or
Not Currently Available for Direct Purchase