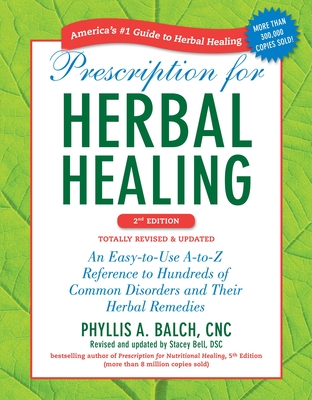 Prescription for Herbal Healing, 2nd Edition
An Easy-to-Use A-to-Z Reference to Hundreds of Common Disorders and Their Herbal Remedies
Paperback

* Individual store prices may vary.
Description
The definitive source for choosing the optimal herbal therapy- thoroughly revised and updated.
Millions of Americans are turning to herbal therapies to heal what ails them-either as an alternative or as a supplement to traditional medicine. From the most trusted name in natural healing, Phyllis A. Balch's new edition of Prescription for Herbal Healing provides the most current research and comprehensive facts in an easy-to-read A- to-Z format, including:
Information on more than 200 herbs and herbal combination formulas, ranging from well-known herbs, such as ginseng and St. John's Wort, to less familiar remedies, such as khella and prickly ash
Chinese and ayurvedic herbal combinations
Discussion of more than 150 common disorders from acne to yeast infection, and suggested herbal treatment therapies
Avery, 9781583334522, 656pp.
Publication Date: April 3, 2012
About the Author
Phyllis A. Balch, CNC, was a leading nutritional counselor and advocate of natural therapies for more than two decades and spent more than twenty-five years researching natural approaches to health and healing. Phyllis Balch's books have sold more than 8 million copies worldwide www.prescriptionfornutritionalhealing.net