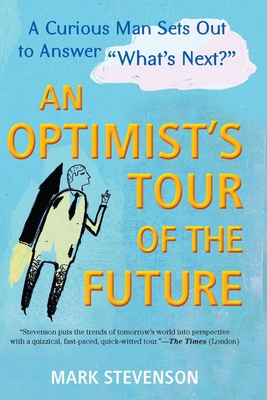 AN Optimist's Tour of the Future
One Curious Man Sets Out to Answer "What's Next?"
Paperback

* Individual store prices may vary.
Other Editions of This Title:
Hardcover (2/3/2011)
Description
In the tradition of Bill Bryson's A Short History of Nearly Everything, a smart and entertaining guide to the future.
Mark Stevenson-a writer, deep thinker, and stand-up comedian-set out simply, asking, "What's next for our species?" and then traveled the globe in pursuit of the answers. Along the way, he visited the Australian outback to visit the farmers who can save us from climate change, met a robot with mood swings, and talked to the Spaniard who's putting a hotel in space. While some might be overwhelmed, or even dismayed by the looming realities of genome sequencing, synthetic biology, a nuclear renaissance, and carbon scrubbing, Stevenson remains, well, optimistic. Drawing on his singular humor and storytelling to break down these sometimes complicated discoveries, An Optimist's Tour of the Future paints a wonderfully readable, and completely enthralling portrait of where we'll be when we grow up- and why it's not so scary.
Praise For AN Optimist's Tour of the Future: One Curious Man Sets Out to Answer "What's Next?"…
"Stevenson describes our future's possibilities with a journalist's eye for detail, a teacher's knack for translating complexities, and a comic's wry commentary." — Christian Science Monitor

"A series of sharp and fascinating interviews with technological innovators and scientific visionaries." — Wall Street Journal

"Stevenson surveys a huge number of research fields - synthetic biology, nanotech, robotics and alternative energy to name just a few - in labs on nearly every continent, and weaves the most promising aspects of each into one grand vision. ... The book is a refreshing reminder that the future will always belong to the optimists." — The New Scientist

"Stevenson does a great job of delivering all the facts with a sense of wonder and curiosity... I highly recommend this book." — Wired's Geek Dad

"From longevity science to robotics to cancer research, Stevenson explores the most cutting-edge ideas in science and technology from around the world, the important ethical and philosophical questions they raise, and, perhaps most importantly, the incredible potential for innovation through the cross-pollination of these different ideas and disciplines." — The Atlantic
Avery, 9781583334560, 384pp.
Publication Date: February 7, 2012
About the Author
Mark Stevenson is codirector of Flow Associates, Britain's most respected cultural learning consultancy, and ReAgency, a leading organization that promotes science communication. He lives in London.
or
Not Currently Available for Direct Purchase