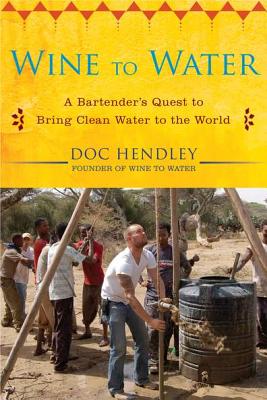 Wine to Water
A Bartender's Quest to Bring Clean Water to the World
Hardcover

* Individual store prices may vary.
Other Editions of This Title:
Paperback (12/31/2012)
Description
The captivating story of an ordinary bartender who's changing the world through clean water.
Doc Hendley never set out to be a hero. In 2004, Hendley-a small- town bartender- launched a series of wine-tasting events to raise funds for clean-water projects and to bring awareness to the world's freshwater crisis. He planned to donate the proceeds through traditional channels, but instead found himself traveling to one of the world's most dangerous hot spots: Darfur, Sudan.
There, Doc witnessed a government-sponsored genocide where the number-one weapon wasn't bullets-it was water. The Janjaweed terrorists had figured out that shooting up a bladder containing 10,000 liters of water, or dumping rotting corpses into a primary water source is remarkably efficient for the purposes of mass extermination. With limited funds, Doc realized that he couldn't build new wells costing $10,000 a pop, but he could hire local workers to restore a damaged well for a mere $50 each. He'd found his mission. Today, Doc and Wine to Water continue to help stricken peoples repair and maintain water- containment systems in places like Darfur, Cambodia, Uganda, and Haiti.
Doc is a regular, rough-and-tumble guy who loves booze, music, and his Harley- but he also wanted to help. "Wine to Water" is a gripping story about braving tribal warfare and natural disasters and encountering fascinating characters in far-flung regions of the world. It is also an authoritative account of a global crisis and an inspirational tale that proves how ordinary people can improve the world.
Avery Publishing Group, 9781583334621, 288pp.
Publication Date: January 5, 2012
About the Author
Doc Hendley is the founder and president of Wine to Water, a nonprofit organization focused on providing clean water to people in need around the world. When he isn't traveling to underdeveloped nations or raising awareness for the world's water crisis, Hendley spends his time in Boone, North Carolina, with his wife and two children.
or
Not Currently Available for Direct Purchase