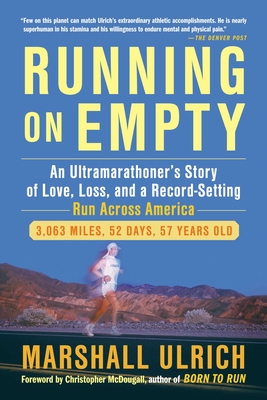 Running on Empty
An Ultramarathoner's Story of Love, Loss, and a Record-Setting Run Across Ameri ca
Paperback

* Individual store prices may vary.
Other Editions of This Title:
Digital Audiobook (11/25/2019)
Description
 A fascinating glimpse into the mind of an ultramarathon runner and the inspirational saga of his run across America.

The ultimate endurance athlete, Marshall Ulrich has run more than one hundred foot races averaging over one hundred miles each, completed twelve expedition-length adventure races, and ascended the seven summits— including Mount Everest. Yet his run from California to New York—the equivalent of running two marathons and a 10k every day for nearly two months straight—proved to be his most challenging effort yet. In Running on Empty he shares the gritty backstory of his run and the excruciating punishments he endured on the road. Ulrich also reaches back nearly thirty years to when the death of his first wife drove him to run from his pain.Ulrich's memoir imbues an incredible read with a universal message for athletes and nonathletes alike: face the toughest challenges, overcome debilitating setbacks, and find deep fulfillment in something greater than achievement.
Praise For Running on Empty: An Ultramarathoner's Story of Love, Loss, and a Record-Setting Run Across Ameri ca…
"Marshall is The Man. Definitively. His run across America at the age of fifty-seven sealed that distinction forever. He's living proof that endurance never sleeps, never gets old, never tires. Nothing can stop him, and that gives us all hope, gives us resolve to keep trying." — Dean Karnazes, acclaimed endurance athlete and bestselling author of Utlramarathon Man

"Marshall and I go way back to the first Eco-Challenge in 1995. An athlete of astonishing grit both then and now, he never fails to push the limits of his sport, no matter what extreme endurance event he's chosen. Running on Empty tells the story of Marshall's greatest test: reading it, you get a sense of how tough this man is, but there's also a bit of Everyman in Marsh. He's an inspiration to all of us." — Mark Burnett, Emmy Award-winning producer of Survivor, Eco-Challenge, The Apprentice, Are You Smarter Than a Fifth Grader, and others



"Riveting—the man has endured more, experienced more, accomplished more than you can imagine. You have to read it to believe it." — Amby Burfoot, winner of the 1968 Boston Marathon and editor-at-large, Runner's World

"You can learn from every race, even the ones you read about instead of run yourself. Marshall is a master of mental toughness, an endurance legend, and exactly the kind of example our country needs right now." — Kara Goucher, American middle- and long-distance runner, Olympian and World Championship medalist

"I'm always secretly envious of guys like Marshall, who run for adventure and cover extreme distances. What goes on inside their heads? How do they keep going, on and on, into the night, for days on end? What do they experience that the rest of us don't? Running on Empty tells it all, giving a rare glimpse into the world of ultrarunning and into the life of a man who epitomizes his sport's doctrine of 'never say quit.'" — Ryan Hall, U.S.A. Olympic marathoner, U.S.A. half-marathon record holder (first U.S. runner in under an hour)

"One of America's greatest living adventurers and an expert without peer in human endurance." — Christopher McDougall, author of Born to Run

"A powerful memoir ... a fine pick for athletes and non-athletes alike." — Midwest Book Review

"Searing, obsessive honesty ..." — The Sydney Morning Herald

"Marshall Ulrich is nothing but a sincere original, so it's no surprise that his new 295-page hardcover book about his 2008 record-setting run from San Francisco to New York City (Running on Empty: An Ultramarathoner's Story of Love, Loss and a Record-Setting Run Across America) is of the same authentic, one-of-a-kind ilk." — Running Times
Avery, 9781583334904, 320pp.
Publication Date: April 3, 2012
About the Author
Marshall Ulrich is an extreme-endurance athlete, ultrarunner, mountaineer, and adventure racer. His career has earned him wins, records, and firsts on some of the toughest courses in the world and has taken him to the top of the highest mountains. He lives in Idaho Springs, Colorado.
or
Not Currently Available for Direct Purchase