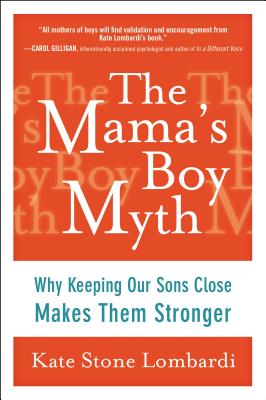 The Mama's Boy Myth (Paperback)
Why Keeping Our Sons Close Makes Them Stronger
Avery, 9781583335093, 336pp.
Publication Date: March 5, 2013
Other Editions of This Title:
Hardcover (3/15/2012)
* Individual store prices may vary.
Description
A radical reexamination of the mother-and-son relationship that advocates the end of the "mama's boy" taboo.

Mothers get the message early and often—push your sons away. Don't keep them emotionally bound to you. Back off, because boys need to learn to stand on their own. It is as if there were an existing playbook—based on gender role preconceptions dating back to Freud, Oedipus, and beyond—that prescribes the way mothers and their sons should interact.

Kate Stone Lombardi, an award-winning journalist who has written for the New York Times for more than twenty years, persuasively argues that much of the entrenched "wisdom" about mothers and sons is hopelessly outdated. Highlighting new research, The Mama's Boy Myth reveals that boys who are close to their mothers are happier, more secure, and enjoy stronger connections with their friends and ultimately their spouses. With revealing interviews and moving case studies, Lombardi argues that the rise of the new male—one who is more emotionally intelligent and sensitive without being less "manly"—is directly attributable to women who reject the mama's boy taboo.
About the Author
Kate Stone Lombardi has contributed to The New York Times for the last twenty years. Her work has also appeared in The Wall Street Journal, Reader's Digest, Parenting, Time.com and Ladies Home Journal. She has won six Clarion Awards for journalism from Women in Communications. A graduate of Williams College with an MS in journalism from Columbia University, Lombardi is the mother of two adult children and lives in Westchester County, New York, with her husband, Michael.
Praise For The Mama's Boy Myth: Why Keeping Our Sons Close Makes Them Stronger…
"Kate Stone Lombardi is an exemplary journalist and in her book, The Mama's Boy Myth, brilliantly dismantles our society's misguided fear that boys' connections to their mothers can be too close, showing that such healthy mother-son connections lead to the creation of healthier, more empathic, successful men in our society—Real Boys & Real Men!"
—William Pollack, author of Real Boys

"An informative, hopeful book that delves into an important topic-how moms can help raise emotionally healthy sons. Mothers of sons, take note: Kate Stone Lombardi tells us that what we have instinctually known—that the stereotype of the stoic Marlboro Man emotionless young male is just that—a stereotype. It turns out, our wonderful sons relish connection and affection just as much as our fantastic daughters—and Lombardi tell us, those are relationships to celebrate."
—Peg Tyre, author of The Trouble with Boys

"A provocative debut…an insightful, timely study"
—Kirkus Reviews 

"The Mama's Boy Myth takes on the idea that mothers who are close to their mothers make them weak or effeminate…in fact, Lombardi says, strong mother-son relationships have mainly positive effects." 
—The Wall Street Journal

 "Stop Worrying About Raising A Mama's Boy…. It sounds like a myth of yesteryear, but Kate Stone Lombardi, frequent New York Times contributor and author of  The Mama's Boy Myth, says the hangover from generations of gender preconceptions affects us all, and that in many families and communities, mothers still find themselves urged to push their sons away at exactly the moments (like starting school and becoming a teenager) when our boys need us most — and that even when we don't, we find it hard to talk about how close we are to our sons."
—The New York Times

 "Will a close mother-son relationship create another Norman Bates? Far from it, says Kate Stone Lombardi, author of The Mama's Boy Myth …From the myth of Oedipus to the movie Psycho, narrative after narrative harps on the idea that mothers can damage their sons, make them weak, awkward and dependent. But for millions of men, the opposite has turned out to be true."  
—NPR "All Things Considered"

 "It's a relief to know that the mother-son connection gives boys a good start in life."
—The Toronto Globe and Mail

 "Moms are expected to help their sons develop a healthy masculine identity, not by holding them close, but by pushing their sons away. Award winning journalist Lombardi's provocative new book, The Mama's Boy Myth, reveals surprising research that doesn't just contradict this theory – it blows it out of the water. Far from damaging their sons, mothers who have a nurturing, close relationship with their male children are imparting innumerable benefits at every stage of development."
—SheKnows.com

"When she was raising her two children, Kate Stone Lombardi—a seasoned journalist for The New York Times—was taken aback by the assumptions of so many people around her, who said it was best to distance herself from her son to avoid him becoming a "mama's boy." But Lombardi's parenting instincts went against all of the advice that she was hearing. Synthesizing years of research with hundreds of her own interviews with mothers, sons, fathers and experts, she presents a solid argument to those naysayers in her book, The Mama's Boy Myth. Both the data and the personal anecdotes demonstrate that fostering a close mother-son relationship results in emotionally evolved, empathetic and successful men."  
—New York Press
 
or
Not Currently Available for Direct Purchase