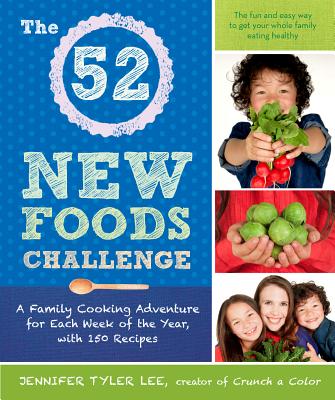 The 52 New Foods Challenge
A Family Cooking Adventure for Each Week of the Year, with 150 Recipes
Paperback

* Individual store prices may vary.
Description
IACP Cookbook Award Nominee · Salvation for every busy parent who longs to make mealtimes relaxing, fun—and healthy, from the creator of Crunch a Color™
 
Like many parents, Jennifer Tyler Lee struggled to get her kids to eat healthy, balanced meals. The answer, she discovered, was making it a game. "We'll try one new food each week," she told her kids. "You pick!" She called it the 52 New Foods Challenge.
 
In this week-by-week guide, Lee gives parents practical tips to dramatically change the way their families eat. Her helpful advice and the simple rules that her family followed will show parents how to start eating healthy every week of the year. Each week offers a healthy new food to try, from artichokes to zucchini, and includes easy recipes and fun activities to work on as a family—from learning to cook together to enjoying the farmers' market to even experimenting with growing your own food.
 
With more than 150 simple, healthy recipes and advice from nationally acclaimed nutrition experts, The 52 New Foods Challenge shows parents how to enjoy mealtimes, plant the seeds of change at their family table, and easily incorporate healthy habits every day of the year. Guaranteed to inspire a child's creativity and confidence in the kitchen and beyond, The 52 New Foods Challenge is the perfect companion for any busy parent who wants to stop stressing over mealtime and find a creative, playful solution to make this family ritual relaxing and fun.
Praise For The 52 New Foods Challenge: A Family Cooking Adventure for Each Week of the Year, with 150 Recipes…
Praise for The 52 New Foods Challenge

"Looking for ways to encourage your kids to eat nutritious food without instigating a power struggle? Lee (creator of the game Crunch a Color) offers an exciting strategy to introduce children to fresh foods and involve them in cooking. She opts for a game-based approach where kids earn points for the different types of foods they eat. The plan is structured to introduce 52 new foods over the course of 52 weeks. Families can prepare the meals together and experiment. Provisions are listed seasonally, such as sweet potato (fall) and peas (spring). The author emphasizes the importance of children learning to cook, having a garden (home and school), and going to farmers markets. One can also choose to journal, use photographs, or blog to chart what works and what doesn't. Many of the included recipes are side dishes such as roasted purple cauliflower and wild rice with pomegranate and pistachios. Using games/rewards in conjunction with food can be risky business, but Lee's method is lighthearted. VERDICT A fun way to engage children in creating meals and trying new things."
—Barbara ­Kundanis, Library Journal

"Most everyone could benefit in some way from adopting the 52 New Foods challenge – whether you're starting from a place of relatively healthy eating or not; whether you're an avid home cook or a take-out queen; whether you have children or not. Part plan-of-action and part game, 52 New Foods gives helpful structure to more amorphous goals such as wanting to 'eat healthier,' 'cook more,' 'lose weight' or 'increase variety in my family's diet.'…By taking on this fun, yearlong challenge, one should likely accidentally achieve all of the above in the process."
—US News and World Report: Health


Advance Praise for The 52 New Foods Challenge

"In these days of hand-wringing about how our kids' eating habits have gone down the tubes, Jennifer Tyler Lee is stepping up and giving us parents something positive to do to.  Her solution-based book is filled with thoughtful advice, surprising nuggets of information, and most of all a welcome dose of proactive optimism."
—Katie Workman, author of The Mom 100 Cookbook and creator of themom100.com

"The 52 New Foods Challenge is quickly becoming THE resource guide for inspiring my kids to eat the full spectrum of foods."
—Melissa Lanz, author of The Fresh 20 Cookbook and CEO of The Fresh 20

"Invites kids of all ages into the kitchen to cook, and gives them exactly what they need to get excited about kale, salmon, and quinoa instead of pasta, pizza and other "kid food." Jennifer Tyler Lee has planted the seeds of comfort and confidence in the child's kitchen."
—Jesse Cool, author of Simply Organic

"A year from reading this book, the fact that your family is eating healthier will be a symptom of something far deeper. The food will have been a delicious prop, an opportunity to think and communicate differently. That's what makes Jennifer Tyler Lee's book so valuable.  If it helps, think of The 52 New Foods Challenge is a delicious blend of Dr Spock and The Joy of Cooking for 21st century foodie parents. But it's much more than that"
—Raj Patel, author of Stuffed and Starved

Praise for Jennifer Tyler Lee

"Fun? Simple? Rewards dinner conversation, good manners and setting the table? Encourages even the most reticent child—or adult!—to eat their veggies? Supports non-profits dedicated to combating the childhood obesity epidemic? You can see why we love this."
—Laurie David's The Family Dinner

"A simple, fun and playful way to get kids to eat healthy and try new foods."
—Rachael Ray's Yum-O!

"A mom and genius game creator helping kids eat fresh food!"
—Jamie Oliver's Food Revolution
Avery, 9781583335567, 336pp.
Publication Date: November 4, 2014
About the Author
Jennifer Tyler Lee is an award-winning author of Half the Sugar, All the Love and The 52 New Foods Challenge, game creator, self-trained home cook, and healthy eating advocate. Her innovative and delicious low-sugar recipes show that quitting sugar doesn't mean giving up the foods you love—the trick is to sweeten them naturally with fruits and vegetables instead of added sugar. Her nutrition game, Crunch a Color®: The Healthy Eating Game, was named one of Dr. Toy's "10 Best" Children's Products and received the Parent-Tested Parent-Approved seal of approval. Jennifer's easy, healthy recipes have been spotlighted by Jessica Alba, Jamie Oliver, Michael Pollan, Oprah, Williams-Sonoma, Pottery Barn Kids, Whole Foods, Parents Magazine, and US Weekly, among many others. She's a featured contributor at Red Tricycle. She shares her recipes each week at www.52newfoods.com.
or
Not Currently Available for Direct Purchase