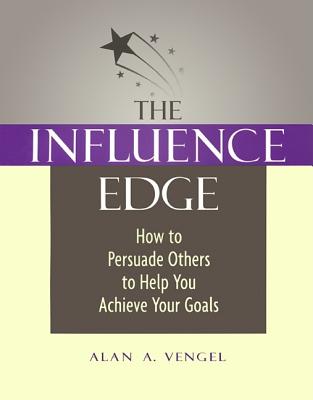 The Influence Edge
How to Persuade Others to Help You Achieve Your Goals
Paperback

* Individual store prices may vary.
Description
OLD-SCHOOL top-down organizational behavior won't cut it anymore. Direct chain-of-command hierarchies are obsolete, fast giving way to networked, team-oriented organizations. To be successful, the ability to influence others-especially others over whom you have no direct control-is a must. You have to build alliances and persuade people, not boss them around.
The ability to influence people isn't something you're born with, it's a skill anyone can acquire. In his new book, The Influence Edge, experienced organizational consultant Alan Vengel teaches the influence skills needed to enlist the cooperation of others, inside and outside the organization, to achieve your professional goals.
Drawing on case studies and illustrative anecdotes from his consulting practice, Vengel introduces a powerful system of influence initiatives and strategic thinking that anyone can apply to almost any work situation. The Influence Edge details specific influence tactics that can lead to workplace success. It provides a nuts and bolts guide for planning for a real influence situation, and shows exactly how to map out a strategy. And The Influence Edge goes deeper into the influence realm to show how to build better long-term rapport, even with really difficult people.
An interactive self-study guide, The Influence Edge offers immediate hands-on applications. Its heavily tested, practical insights are embodied in a variety of exercises that help readers evaluate their progress, reflect deeply on what they've read, and build a personal strategy for increasing their influence edge.
Vengel equips readers to influence without authority, sell ideas, and build relationships. The Influence Edge is designed to be used again and again. It provides a complete toolkit for turning the often disorderly and seemingly impossible task of getting someone else to help you achieve your goal into an entirely viable process of analysis, preparation, and action.
Berrett-Koehler Publishers, 9781583761564, 120pp.
Publication Date: January 8, 2001
About the Author
With over twenty years experience as a consultant, speaker, and educator in management training and organizational development, Alan Vengel knows influence. A founder of Vengel Consulting Group, Inc. and a strategic partner with Beverly Kaye and Associates, Inc./Career Systems International, he has conducted over 2,000 seminars in management and leadership development. He has also developed and is a master trainer for the acclaimed skill-building programs The Negotiation FocusTM, The EMail EdgeTM, and The Influence EdgeTM, which is presented here.
He has developed, presented, and installed programs in performance management, leadership development, and career development strategies in hundreds of organizations. His recent clients include Nortel Networks, Cisco Systems, Fireman's Fund, Intel, KLA, Quantum, Compaq Computers, The Gas Company, Xerox, and LSI Logic.
or
Not Currently Available for Direct Purchase