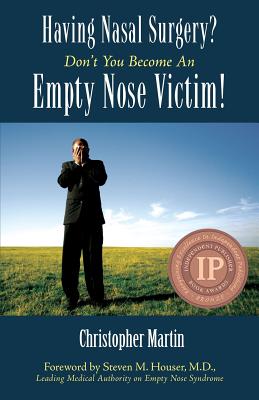 Having Nasal Surgery? Don't You Become an Empty Nose Victim!
Paperback

* Individual store prices may vary.
Other Editions of This Title:
Paperback (2/10/2021)
Description
Have you had nasal surgery, but now find yourself worse off than before? If so, you might be one of millions who suffer from a serious medical condition known as empty nose syndrome, or ENS--a complication of surgery. Symptoms of ENS include shortness of breath (despite a wide open nose), nasal dryness, throat irritation, thick, sticky mucus, shallow sleep, and sometimes chronic sinusitis. Many with ENS are depressed. Some have even committed suicide. Endorsed by well-known doctors familiar with ENS, Chris offers a genuine message to the reader and hope for the injured patient through: 1) His personal triumph in coping with ENS. 2) A critique of turbinate surgeries for anyone considering nasal surgery. 3) An inside look at the politics of ENS. 4) Best treatments for ENS, many of which also apply to sinusitis, allergic rhinitis, postnasal drip, GERD, and asthma. "Chris Martin's book is a must-read for anyone with nasal problems so they, too, can understand ENS and avoid becoming an ENS patient. His up-to-date information can empower the patient to best therapies."--Murray Grossan, M.D., Author of The Sinus Cure and inventor of the Grossan Hydro Pulse(R) Nasal-Sinus Irrigation System "I applaud Chris' attempt to bring this critically important issue to the public's attention. If one person can be saved from the devastation this surgery can cause, he will have performed a great service."--Wellington S. Tichenor, M.D., Creator of award-winning website www.sinuses.com, and wrote the introduction for this book "Chris is addressing a tremendously important issue in otolaryngology. Empty nose syndrome is a real entity that requires further investigation. Although Chris' book is written for the general public, I truly hope my colleagues in ENT will read this book and take it to heart."--Steven M. Houser, M.D., ENT specialist, MetroHealth Medical Center and Cleveland Nasal, Sinus and Sleep Center, assistant professor, Case Western Reserve University, and wrote the foreword for this book.
Christopher Martin, 9781583851975, 236pp.
Publication Date: August 17, 2007
or
Not Currently Available for Direct Purchase