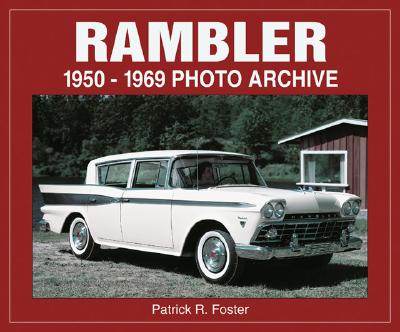 Rambler (Paperback)
1950-1969 Photo Archive
Enthusiast Books, 9781583880784, 128pp.
Publication Date: November 14, 2002
* Individual store prices may vary.
Description
Several small cars were introduced by American companies in the 1950s but only the Rambler was successful. From 1950-1969 more than four million Ramblers were produced. Starting out as a Nash model, it later was offered through Hudson dealers before becoming a separate make in its own right. Rambler set a sales record for independent makes that remains unbroken even today. In this exciting new book, exquisite photographs illustrate models throughout the entire lifespan of the modern Rambler. Includes a detailed history of the company, written by Patrick Foster- America's premier AMC historian. You'll love it!
About the Author
One of America's best-known automotive writers, Patrick R. Foster has spent over 30 years studying the automotive industry. The leading authority on AMC and its predecessors, Pat has written several books on that subject along with many others, including Jeep, Studebaker, Hudson, Kaiser-Frazer, and Metropolitan. His popular columns appear in Hemmings Classic Car and Old Cars Weekly, and he has won awards for his books and articles from the AACA (Antique Automobile Club of America) and SAH (Society of Automotive Historians). In 2011, he was honored with the Lee Iacocca Award—one of the most coveted awards in automotive writing. His website is The Olde Milford Press (oldemilfordpress.com).
or
Not Currently Available for Direct Purchase