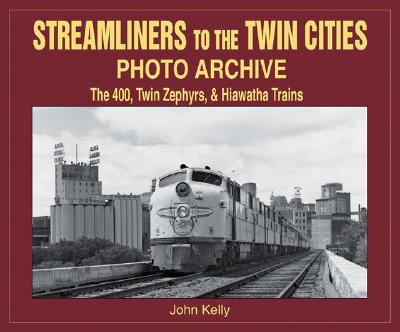 Streamliners to the Twin Cities Photo Archive (Paperback)
400, Twin Zephyrs, & Hiawatha Trains (Photo Archives)
Enthusiast Books, 9781583880968, 126pp.
Publication Date: July 13, 2003
* Individual store prices may vary.
Description
In 1935 an intense rivalry between the Chicago & North Western, Milwaukee Road and Burlington Route began in the busy Chicago-St. Paul/Minneapolis (Twin Cities) corridor. The competition lasted until 1971. For many years the proud 400's, bold Hiawathas and sleek Twin Zephyrs held the fastest start-to-stop times in the world. Each railroad had its own route, but all three had the same goal: to carry the maximum number of passengers between Chicago and the Twin Cities in the shortest amount of time. Which of these trains was the swiftest? The speed of all three trains was timed frequently, and each of them broke the 100 mph limit almost daily. "All Aboard" to ride the C&NW 400, "The Train That Set The Pace For The World," the Twin Zephyrs on Burlington's "Mississippi River Scenic Line" and the Hiawatha on Milwaukee Road's "Speedway of the Speedliners.
About the Author
John Kelly grew up in Eau Claire, Wisconsin where his father\u2019s best friend was an engineer on the Chicago & North Western. John has been collecting railroad photos, timetables and dining car menus for 20 years and has a large collection. In addition, he has written on railroad history for Trains magazine, Trains.com, Vintage Rails and Passenger Train Journal, and has authored a half dozen photographic books on vintage trains. John lives in Madison, Wisconsin where he is employed by the Wisconsin Technical College system as a computer technician.
or
Not Currently Available for Direct Purchase