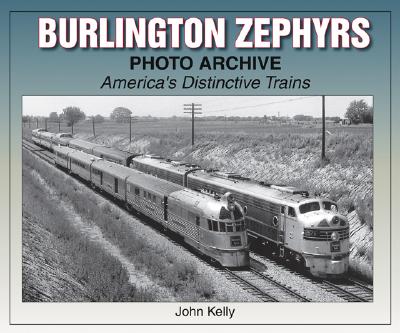 Burlington Zephyrs Photo Archive (Paperback)
America's Distinctive Trains (Photo Archives)
Iconografix, 9781583881248, 126pp.
Publication Date: October 3, 2004
* Individual store prices may vary.
Description
With declining passenger revenues Burlington President Ralph Budd realized something unique was needed to lure passengers back to train travel. The result was the Zephyr. The Zephyr's appeal during the Great Depression was tremendous, its sleek lines and streamline design was the beginning of a styling revolution. In 1934, the only real hope was the future and the future was the Zephyr. A Burlington Superintendent best summed the Zephyr experience in these words, ''You would first notice a speck of stainless-steel emerging out of the distant haze. Then in spectacular fashion it would flash by, a mass of shimmering steel, traveling a hundred miles an hour and within seconds vanish again in the distance.'' Featured in high quality photos and descriptive captions the Burlington Zephyrs are shown in a variety of scenic, rural and urban settings. Also included are vintage brochures, timetables, postcards and ads.
About the Author
John Kelly grew up in Eau Claire, Wisconsin where his father\u2019s best friend was an engineer on the Chicago & North Western. John has been collecting railroad photos, timetables and dining car menus for 20 years and has a large collection. In addition, he has written on railroad history for Trains magazine, Trains.com, Vintage Rails and Passenger Train Journal, and has authored a half dozen photographic books on vintage trains. John lives in Madison, Wisconsin where he is employed by the Wisconsin Technical College system as a computer technician.
or
Not Currently Available for Direct Purchase