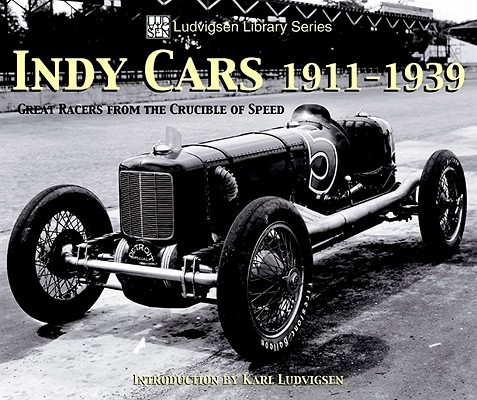 Indy Cars 1911-1939
Great Racers from the Crucible of Speed
Paperback

* Individual store prices may vary.
Description
When a group of Indianapolis businessmen built a 2 1/2-mile track and decided to stage a 500-mile race in 1911 it was an epic undertaking with a huge purse for the times that drew racers from Europe as well as America. Delage, Peugeot, Ballot and Mercedes cars came to win dollars and inspire America's racing-car builders, Harry Miller and the Duesenberg brothers. Soon these native talents came to dominate the 500-mile race, introducing supercharging and front-wheel drive with great success in the 1920s and 16-cylinder engines in the 1930s. This new book in the Ludvigsen Library Series covers racers through the 1930s, completing the Series' sweeping panorama of the cars that raced in the ''500'' from 1911 to the end of the 1970s. Many rare photos from the earliest days of Indy bring the cars, engines and personalities of these pioneering years to life. The drama of their achievements made the Indianapolis 500 the world's greatest auto race.
Praise For Indy Cars 1911-1939: Great Racers from the Crucible of Speed…
Fort Worth Star-Telegram, Dec. 5, 2006
"You'll come away intrigued by the variables available within four wheels and approximately three decades. The late Tom McRae, co-founder of the Granbury-based Great Race, commissioned two recreations of mid-'30s, Buick-powered Indy cars, and in reading Ludvigsen's book it's easy to appreciate McRae's fascination."
Enthusiast Books, 9781583881514, 125pp.
Publication Date: November 13, 2005
About the Author
Karl Ludvigsen is respected as a close and knowledgeable observer of, and participant in, the world motor industry. In addition to his industry activities as an executive with GM, Fiat and Ford and head of a consulting company, he has been active for over 60 years as an author and historian. As an author, co-author or editor he has some five dozen books to his credit, all concerning cars and the motor industry, his life-long passion. Many have been garlanded for their high standard of writing and research. An American, he lives in the UK, in Suffolk.