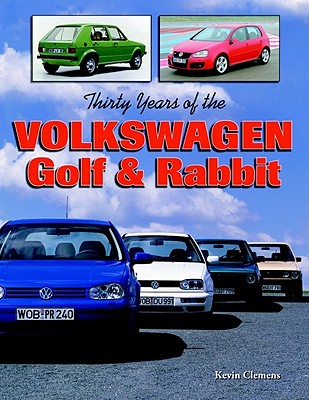 Thirty Years of the Volkswagen Golf & Rabbit (Paperback)
Enthusiast Books, 9781583881583, 128pp.
Publication Date: April 19, 2006
* Individual store prices may vary.
Description
In the early 1970s, Volkswagen was in deep trouble. Its venerable rear-engine air-cooled Beetle could no longer meet upcoming government regulations and its once phenomenal sales numbers had begun to slide. Something new was needed and the Giugiaro-designed Volkswagen Golf rose above all of the other concepts and designs. The Golf (called the Rabbit in the U.S.) was a modern car so different from the ancient Beetle, and in fact so different from anything else on the market that in Europe it's not called the "compact" class or "hatchback" class; it's called the "GOLF" class. This book covers the fascinating transition from Beetle to Golf and the subsequent development of the car that became Volkswagen's new icon. Included are Volkswagen archival photographs of early development projects and details about the people who built these charismatic cars. The story is more than facts and figures. It is an adventurous tale of a company whose future rested on the fenders of a hatchback economy car - a car that ultimately became a favorite of car enthusiasts around the world.
About the Author
Kevin Clemens has been a part of the automotive industry for more than 25 years. Trained as an engineer, he worked as a research scientist, designer of racing and sports car tires, and public relations counselor. He has been an editor and contributor at some of the industry's most influential automotive enthusiast magazines, such as Automobile Magazine, and is presently Editor-at-Large for European Car magazine. He has written extensively about everything from racing vintage sports cars to the most sophisticated present-day automotive technologies.