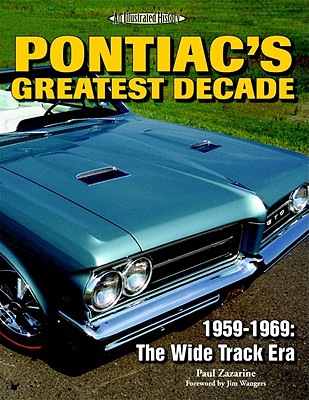 Pontiac's Greatest Decade 1959-1969 (Paperback)
The Wide Track Era
Enthusiast Books, 9781583881637, 160pp.
Publication Date: April 19, 2006
* Individual store prices may vary.
Description
Pontiac's Greatest Decade, 1959-1969: The Wide Track Era covers a specific timeline in Pontiac's history. A decade when it jumped from middle of the sales pack to hold the coveted number three position behind Chevrolet and Ford. Pontiac never gave it up from 1961 until 1969. The incredible leadership of Bunkie Knudsen, Bob Estes, and John DeLorean helped propel Pontiac into this esteemed position. Starting with the Wide Track 1959 Catalina, in rapid succession came the 1961 Tempest, the 1962 Grand Prix, the 1964 GTO (which launched the musclecar era), the 1967 Firebird, and the 1969 Grand Prix. Pontiac's Greatest Decade, The Wide Track Era, captures the energy and the dynamic force of personality that ignited the spirit of Pontiac Motor Division and all of its employees, from designers and engineers to assembly line workers and dealers. No other book on Pontiac's history has captured the essence of the Wide Track era. Along with never-before-seen photographs, there are evaluations of the products and significant milestones in the company's history from 1959 to 1969. Production and pricing information are also included.
About the Author
Paul Zazarine has had over 25 years of experience in automotive writing, editing and directing — top automotive magazines include Musclecar Review, Corvette Fever, Chevy Truck, Musclecar Enthusiast, Corvette Enthusiast, Mustang Enthusiast and Pontiac Enthusiast Magazine. Books include GTO Restoration Guide and Glory Days, How to Restore Your Musclecar, 1967-1969 Camaro Exposed, Barracuda/Challenger, GTO History 1964-1967, and Pontiac's Greatest Decade 1959-1969: The Wide Track Years.
or
Not Currently Available for Direct Purchase