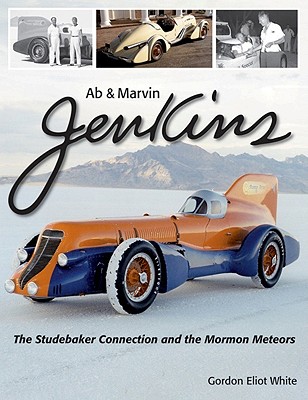 Ab & Marvin Jenkins
The Studebaker Connection and the Mormon Meteors
Paperback

* Individual store prices may vary.
Description
Ab Jenkins drove for Studebaker in speedway and road races during the late 1920's and early 30's, then took a Pierce-Arrow roadster to Bonneville, Utah, for the first-ever timed run on the Salt Flats. His 112 mile an hour record for 24 hours made him world-famous. In 1935 the Duesenberg Company converted one of its supercharged luxury cars into "The Mormon Meteor" for him to race at Bonneville against such men as John Cobb, Malcolm Campbell and Captain George Eyston. Repowered in 1936 with a 1,750 cubic inch Curtiss fighter plane engine, the car was re-named "Meteor II" and returned to the Salt Flats to set more records. In 1937, with sponsorship from major oil, tire and spark plug companies, he built Meteor III, a huge aero-engine monster that carried him to more records on the salt. Ab's son, Marvin, was a racer in his own right, driving one of the Studebakers more than 90 miles an hour in 1931. After the war Marvin was tapped to drive the famed Novi Indianapolis car at Bonneville, where he set Class D records in 1947. In Ab's final drive, he and Marvin teamed up in 1956 to drive a Pontiac to a 24 hour stock car record of more than 118 miles an hour.
Enthusiast Books, 9781583881736, 160pp.
Publication Date: November 1, 2006
About the Author
Gordon Eliot White has been a racing fan, reporter, crewmember, driver, owner and historian for sixty years, since his father took him to see a race in 1939. He was a legman for racing broadcaster Ted Webbe in the 1940s, contributed to Illustrated Speedway News, and worked as a crewmember for his neighbor, Bill Schindler. He spent a career as a journalist, during which he won numerous journalism awards. Since he retired from newspaper work in 1988, he has served as Auto Racing Advisor at the Smithsonian Institute's National Museum of American History. White serves on the advisory board of the National Sprint Car Hall of Fame and has served on committees of the Eastern Museum of Motor Racing. White published the definitive book Offenhauser, the Legendary American Racing Engine and the Men Who Built it in 1996. He has written numerous articles on racing, maritime and aeronautical subjects.
or
Not Currently Available for Direct Purchase